If you want your blog to stand a chance, you must create an editorial calendar.
Otherwise your blogging will be inconsistent, your topics will be unfocused, and your readership will dwindle. If you're blogging for business, you can't afford to "drift" your way through the world of content creation.
Whenever I'm at a loss on topics to blog about, I re-plan my editorial calendar. Here's how I do it:
1. Determine a monthly theme.
This focuses my content. If I know that I'll be offering a webinar, course, or class, I work backwards from that date and make that the theme of the month. My weekly posts align with that theme.
Example: I'll be speaking at Podcast Movement at the end of this month, so podcasting will be the main theme of my content for a few weeks leading up to that event.
On my blog, my focus is on helping personal brands be strategic with their business, and will culminate in a low-tier product offering at the end of the month.
(The red is for my blog, the blue for my podcast.)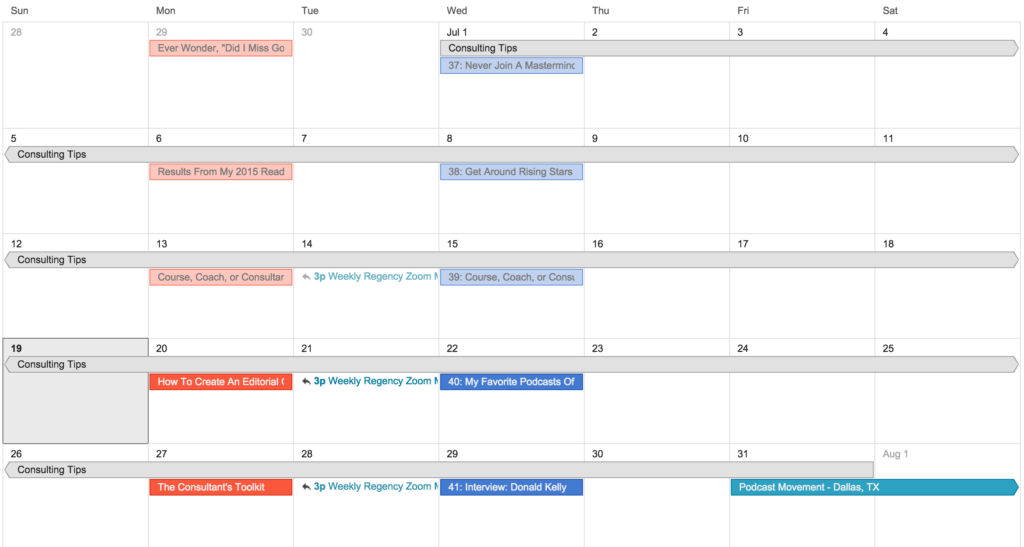 I use Google Calendar and simply create an event that encompasses the entire month and shade it in light gray.
2. Create a balanced diet of posts.
I'm not a full-time blogger, I'm a full-time marketing consultant. I write quite a bit for clients and my own company so I have to ration my creative output.
I do that by writing "easy" posts, such as reviews or booklists, and "difficult" posts that teach something in-depth. If I wrote only "easy" posts, my content would suffer from a lack of depth. If I only wrote "difficult" posts, I'd burn out. I try to keep a healthy balance because blogging regularly is important to me.
Also see: 5 Types of Content to Diversify Your Personal Brand Blog
3. Evaluate headlines and make sure they point toward a single goal.
Once I've filled in blog post ideas, I read the headlines and ask myself, "Is this really pointing people toward a singular destination?"
(If you're blogging for business, I argue it should point toward an income-generating outcome, for you and your readers.)
Let's take two examples. Here are 4 blog posts I wrote in consecutive order about a few years back:
Do you see any kind of focus here? I don't, and while a few of these posts did well, there was no coherence between them. There was no rhyme or reason, and thus no traction.
Take this next example from my podcast:
These posts had much more of a focus: making a career pivot. It's clear these episodes are for folks starting out in a new line of work.
It's no wonder this series led to the largest amount of traffic I've ever had for my podcast: the content was focused, actionable, and gave my listeners income-generating tactics.
Create your editorial calendar today.
You can see that my calendar isn't all that complicated. What matters is having my headlines written and an overall focus. Don't get hung up on colors, codes, and apps. I used a notebook for months until I finally caved and went with a Google calendar (which is still free).
Your blog doesn't stand a chance if you don't deliver regular, focused content — and you'll never create that content if you don't have a calendar. Get to it!
How do you plan your blog or podcast content? Leave a comment below.
---
Liked this post? Then check out: