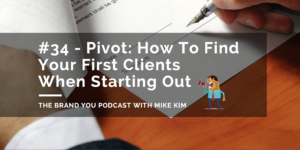 We continue our series on making a career pivot by talking about how to find your first clients when you're starting out.
These are the same steps I used locate and communicate with my first clients, and they're a lot easier to do than you might imagine. Check out the episode for more.
A Quick Preview of the Podcast:
Two online "gold mines" that will help you learn about and locate your first clients.
The surprising thing you DON'T need to land your first few clients.
Why most of the advice you hear online on building a personal brand isn't all that helpful.
Get my "Landing Clients Email Template" here:
Use this simple copywriting resource to connect with and land your first few clients.
Connect with Mike:
Instagram – https://www.instagram.com/mikekimtv/
LinkedIn – https://www.linkedin.com/in/mikekimtv
Facebook – https://www.facebook.com/mikekimtv/
Twitter – https://twitter.com/mikekimtv
YouTube – https://www.youtube.com/c/MikeKim
---
Would you review this show? I would consider it a great honor if you would leave a written review on iTunes. It's one of the best way for word to get out about this podcast. I read every single comment … leave any review you want, as long as it's honest. Thank you!