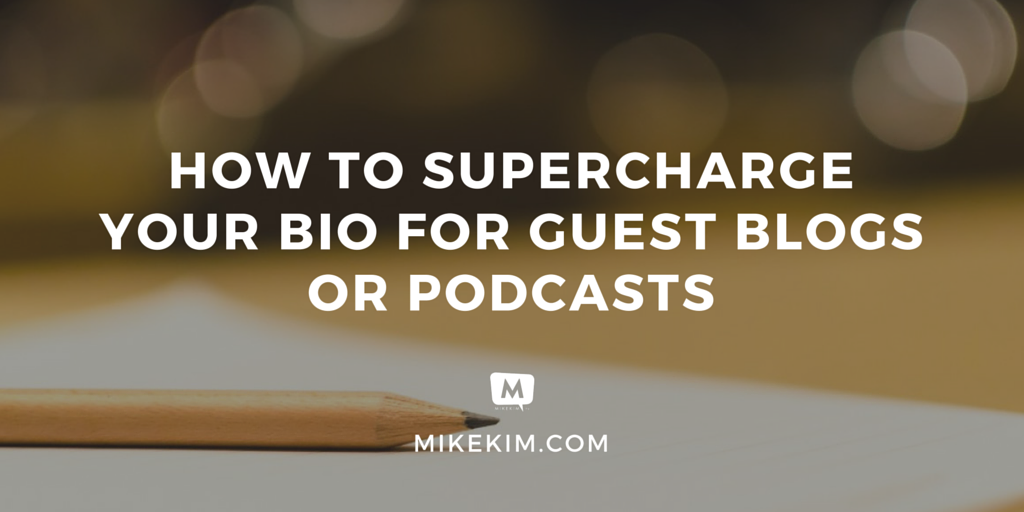 You probably know that strategically guest blogging and being interviewed on podcasts are helpful in growing your brand.
But one thing that tends to sneak up on people is the bio: that pesky two-to-three sentence snippet that succinctly sums up who you are and what you do. You can "kill it" on a guest post or podcast interview, but if you don't have an enticing bio people won't take the next step to 1. visit YOUR platform or 2. opt-in to your email list.
Since these bios can be a bit tough to write, swipe these. The copywriter in me dies a little bit whenever I read a snoozer of a bio. No more boring bios for you, my friend. Just adapt these to your needs.
Guest Bios, Galore:
I use this first one quite a bit when writing for other business sites. Notice it has a very natural call-to-action for a free resource:
Mike Kim ditched his comfy C-suite marketing job in pursuit of career freedom. His goal is to help leaders like you parlay your past work into a profitable personal brand. You can start now by downloading his free eBook, The Do-It-Yourself Blog Guide at mikekim.com.
This next one highlights something interesting about my past that may be appropriate for a certain type of site. Think of something intriguing you've done, and if it's in line with the brand your writing for, share it!
Mike Kim packed his van and drove cross country in pursuit of freedom. His goal is to inspire people like you to live life on their own terms. You can start now by downloading his Free Ebook: The Do-It-Yourself Blog Guide at mikekim.com.
Attract more subscribers by providing the promise of what the reader will attain if he or she visits your site: "sure to take your photography to the next level." Remember, good marketing tends to make substantive promises or highlight benefits.
Mike Kim shows aspiring photographers simple steps for improving photos. Check out his free photography guides and tutorials at mikekim.com. The free tips and video tutorials are sure to take your photography to the next level.
Sometimes it helps to really pour on the interesting tidbits of your life, especially if the platform you're writing for is witty or laid-back.
Mike Kim is a writer, blogger and comic book fanatic living off-grid in upstate New York with his obnoxiously loud drum kit, a menagerie of action figures, and his collection of Batman t-shirts. Check out his latest comic The Deathly Drummer or subscribe to his blog for updates and free merch.
Sometimes, writing in the present-tense gives the reader a feeling of real-time engagement. I may not be sailing along the coast at the very moment a reader encounters this bio, but the wording creates a nice sense of immediacy.
Right now, Mike Kim is juking rocks and mountains while sailing along the Brittany coast. But you can download the short ebook that shows you how to get 100+ subscribers from every post you write.
Finally, adding a bit of humor often helps — especially if it's reflective of your personality and is aligned with the brand you're writing for. I certainly don't want my readers to embarrass their mothers, but sometimes marketing feels that way. This bio takes a jab at the entire industry.
Mike Kim is a real-world marketing pro and creator of the Do-It-Yourself Blog Guide. If you're ready to learn how to market your business without doing stuff that would embarrass your mom, stop in and download his Free eBook.
Download These Bios And Keep 'Em On File.
Click the button below for a PDF with these bios, and check out this podcast on the very same topic.