There's a lot of great content out there on making the leap from your day job to entrepreneurship. Several good friends of mine teach different versions of this, and a good part of my own business involves helping people with this pivot.
The one issue I have is that the information shared (at least free, online) is often incomplete, and the one glaring omission involves the most important and pressing question of all:
"How much money do I need to make a successful pivot?"
Isn't that what we all want to know? I sure did, and today I'm going to outline a process that may help. This may end up being the most valuable blog post you've ever read on making a pivot — because it actually has to do with money!
Without a plan, you'll just end up like this guy: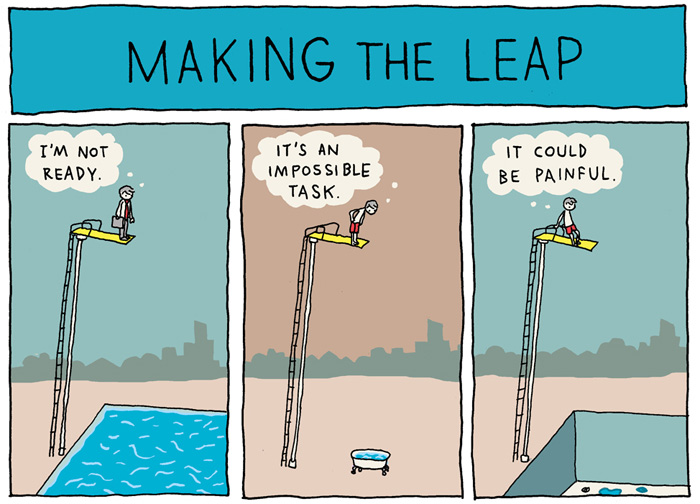 Step 1: Crunch Your "SMUG" Numbers.
When I went through my pivot, I didn't have this framework because I didn't know the person who created it: A.J. Slivinski, a brilliant businessman, real estate investor, and a fellow mastermind member. When he taught it to our group, it resonated so strongly with me that I've shared it everywhere.
"SMUG" itself doesn't mean anything; it's just an easy acronym that stands for the income relative to where you live:
Survival
Middle-class
Upper-class
Gaudy
This is not based on your current income, these are numbers relative to where you live and the lifestyle you want. If you're not sure about cost-of-living in your state, Google "cost of living in [your state]" and you'll find stats. These are just general guidelines, but they may help give you some context.
Let's Use An Example
Though I was born in the Bay Area near San Francisco, New Jersey has been my home for most of my life. NJ is also routinely ranked the second or third most expensive state to live in, and when I crunched my numbers I admittedly got depressed. But home is home and it's where you should base your numbers on, too.
For the sake of parity, I'll just use nice round numbers and double them each step up the SMUG ladder. Let's say $60,000 a year is middle-class in your state. That means:
Survival – $30,000 a year
Middle-class – $60,000 a year
Upper-class – $120,000 a year
Gaudy – $$$$ rollin' like a baller
Step 2: Decide Which SMUG Level You Will Pivot From.
Now you have what I call a "pivot number." We now have actual hard evidence that frames future decisions and calculated risk. This is starting to feel like a real business plan now!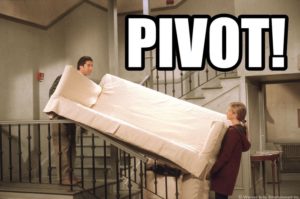 You may be daring and figure that as soon as you earn your survival salary somewhere else, you're out … see you later, day job! I wouldn't recommend that right away (more on that below) but if you're in your 20's or still live with your parents and can handle the risk, have fun.
Maybe you're older but don't have a spouse, or you have a spouse that makes enough money for you to consider leaving your part-time gig, or you have no kids. Each person has their distinct circumstances and should capitalize on any and all advantages. No kids theoretically means you have more time, but no significant other may mean you're cutting it close with your income.
During my pivot, I had to account for my wife, our mortgage, debt, and regular bills, but we also had two incomes so we decided I would base my pivot off the middle-class number. That was our launch pad.
Step 3: Divide Your Pivot Number by 12.
Our numbers were different, but let's assume the example above is me. That means earning $5,000 a month ($60,000 over 12 months) in my new endeavors would allow us to maintain a middle-class lifestyle. If I could hit that, the possibility of making a successful pivot would be within reach.
"Why Not Base This On My Current Income?"
The reason is your current income may not be the right pivot point for you, and if you have one, your family.
Some situations are so desperate that a family may be willing to pivot from a survival number, even though they live an upper-class lifestyle. Perhaps they have a good amount of money saved up and they can tighten the belt for six months.
Others may be more risk averse, and though they live paycheck-to-paycheck they feel nervous about making the transition until they work they earn a middle-class income from their day job.
It's important to stay future-focused during the pivot, which is why I recommend you look at the SMUG numbers, not your current income. The important thing is to consider where you are going.
It's just like sports: when you plant your pivot foot to change directions, you've got to look where you're going, not where you were. (I knew playing high-school basketball would one day come in handy.)
In this example, pivoting from the middle class number means $5,000 a month. You may be wondering, "How am I supposed to do that while working a full-time job?" The short answer is: you don't.
Step 4: Focus on Earning 10% of Your Pivot Number Each Month, for 3 Straight Months.
Let's be honest here; you probably won't earn $5,000 your first month. Don't feel bad. A pivot is a process, not a one-time project. The important thing now is that you need to demonstrate to yourself (and your loved ones) that this new endeavor is profitable and sustainable.
Rant forthcoming:
I'm all for setting big goals, but I've met way too many people filled with delusions of grandeur. Thank goodness these folks aren't military dictators. They'd want to take over an entire nation without even establishing a beachhead. No wonder their friends (and spouses) want to slap 'em in the head.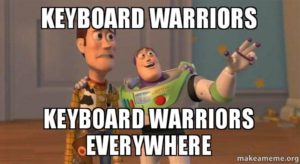 I can't tell you how many emails and comments I've received or seen of people that talk big, brash, and bold online … and can't even send out five e-mails a week to reach out to friends and colleagues for potential clients.
They won't pick up the phone, don't network (because that's slimy) and refuse to reach out to people they already know that might be able to connect them.
Instead of actively prospecting, they hide behind a keyboard, book, podcast, or yet another online course. They wait for the heavens to move on their behalf. They pontificate on what it takes to succeed in business rather than do the work.
Don't be this type of person. Instead:
Set your sights on earning 10% of your monthly pivot number, each month, for three consecutive months. In my example of $5,000 per month, that means earning $500 a month, three months in a row.
You may look at that number and think,"Wow Mike, that's so small."
If you have a day job right now, consider: how how hard would you have to plead, petition, and persist to get a $1,500 raise? It would be like pulling teeth! I know, I've been there. Go ahead, try it next Monday.
The Problem With Internet Economics.
We follow some blogger or podcaster or who says "Yo, I made $134,082 in last week's launch!" and we think, "Wow, that must be so easy! Just launch a blog, send a few emails, do a webinar, and BAM!"
I have nothing against these folks. Some have become friends and most of the ones I've met are good, hard-working, honest people that started right where you are, right now.
But great internet success stories can skew our understanding of real world money. Track back to our example: $1,500 is a lot of money, especially if you're living in survival or middle-class conditions right now. $1,500 nearly covers one month's rent or mortgage for a small condo, which is where we were living when I was going through my pivot.
Earning just 10% of your pivot number for 3 months in a row could literally get you one month ahead in mortgage payments. That is a considerable cushion for many families, and you can bet your bottom dollar that got my wife's attention.
No More Internet Economics (For Now).
I completely understand the need for 10x thinking, moonshot thinking, and the lure of six-figure pay days. I've had insanely high months of income. But the skills and grit needed to make that happen were forged in the fires of focus.
Focus on what's in front of you. Focus on what matters. Focus on taking the small steps to move towards your goal and building momentum from there. A pivot is not a sprint, it's a marathon. For every "overnight" Internet success story, there are thousands of others that have never made a dollar from their efforts because they focused on the wrong thing.
(Seriously, who do you think is buying all those courses?)
Your Current Constraints May Be a Blessing In Disguise.
During my pivot, my wife and I agreed on one condition: that I would match or out-earn my day-job for three consecutive months. Not 10%. Nope, not my wife. She wanted 100% or more, and since I was working a well-paying job the task was that much harder. (She is mean, but wise.)
Eventually I did it, but my first attempts failed because I was focused on the entire 100% within three months. Then I got real. I picked up the phone. I emailed people and asked for referrals. I put myself out there.
Eventually I landed a client, who paid me $500 for work that I now charge $10,000 for. That led to another client, which led to another, which allowed me to pay to attend a conference where I landed more clients and grew my network.
My wife-imposed constraints forced me to focus on what really mattered: income generating activities, and connections that would lead to more income generating activities.
I could write a book on this stuff (and probably will) but I'm going to stop here because I'd like you to stop reading, and start researching.
The four points I mentioned in this article are real-life conversation points I've had with my real-life spouse, my real-life accountant, and are reflected in my real life bank account. Crunch your numbers.
Download Your Pivot Pathway™ One-Sheet Today.
If you want a convenient resource I've put together an editable PDF here. Enter your numbers and put this somewhere so you know where you stand in the pivot process.
Whether you been a long time reader of my content or you're fairly new, there's one thing I want you to know: I want the best for you. This article is not theory; it's real life. Real lives were at stake during my pivot, and the same goes for yours.
The tragedy is that there are amazing people who have tried making a pivot but quit because they didn't have the right strategy. It's not only their loss, but the rest of the world's as well.
The world is a better place when you are at your best. It might be time for a course correction. Start by using this free tool, or just grab a piece of paper and follow the steps outlined in this article.
After you fill out the worksheet, share in the comments below: what do you plan to do to start earning 10% of your monthly pivot number within the next 30 days? I'd be happy to critique and or give feedback if you ask.