Recently I was able to serve and attend the John Maxwell Team's International Certification Event in Orlando, FL.
There were about 3,000 people in attendance, and this was my first opportunity to see and experience what the entire "tribe" of the John Maxwell Team is about.
While the stage content is second-to-none, I quickly realized the same can be said of the people. I was privileged to meet incredible people from all sectors of leadership.
One thing I often teach when advising brands is to focus on psychographics rather than just demographics. Demographics are statistics: age, income, sex, and so forth. But psychographics are all about mindset and how people think.
When it comes to personal development, psychographics trump demographics every time. It was clear in what I saw at this event: there were people from all walks of life, representing over 100 countries, ranging from 11 years old all the way 90 years old. What tied them together? A desire to make the world a better place through positive influence.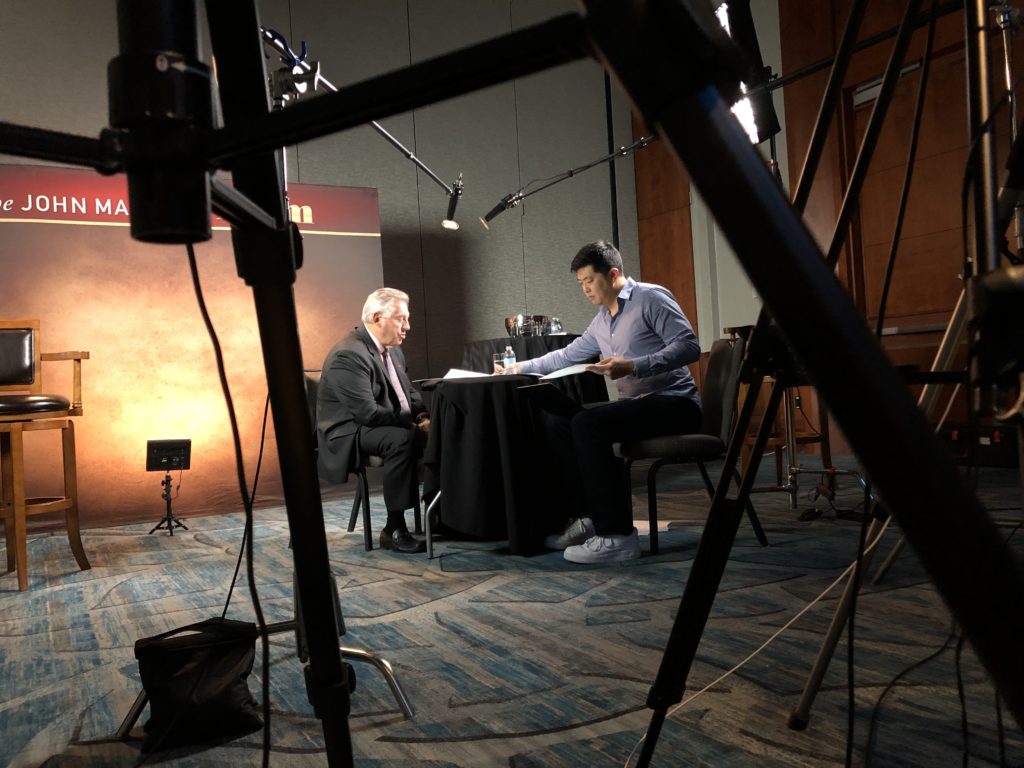 One of the great privileges of my professional life is to steward the messages of influential people like John Maxwell and Paul Martinelli, and it's often in those side conversations that the best stuff comes out.
There was so much great content shared at this event, and because I was working I missed much of the stage content. If you have anything to add to this list, please share it in the comments. Here are just some of my takeaways:
1. Invite the idea over for coffee. Paul Martinelli said this, and the context was about "possibility thinking." In fact, Paul has an entire podcast episode on this topic on the Transformational Leader Podcast. The gist of it? You may not know how to make an idea happen, but you can at least make it welcome.
2. The biggest gap in life is between what we know and what we do. Years ago I took the StrengthsFinder test, and my second top strength was "Activator." I've always been an action-oriented guy, but this really provoked me to start moving forward on some big ideas I've held to for awhile. The biggest one? Writing my book on personal branding. Time to get to work!
3. Self-image is the image I hold myself to, based on my belief of what you think of me. This was another Paul Martinelli quote. I've realized what his life mission is: to kill self-limiting beliefs. Paul's story is amazing: a kid from poverty-stricken Pittsburgh with a stuttering disability to an entrepreneur who has built over 5 multi-million dollar companies and shares the stage with the world's biggest business speakers.
I often say the most important relationship you have is the one you have with yourself, because it affects every other relationship you have — even with God. Paul provided a much deeper understanding of this.
4. You don't need to be sick to start getting better. I don't even remember who said this, but I do know I heard it multiple times. It must be one of the tenets of the John Maxwell Team DNA. This is what personal development is all about: growth. Those who start something only when they're sick are late in the game. 
5. People will surrender what they want for what is familiar, every single time. That's why your job as a coach, speaker, or leader is to hold their image and remind them of who they are!
6. Remove the finish line. This was a John Maxwell quote, shared in the context of how he approaches life at this stage in the game. As of this writing, John is 72. He and I got to spend some time in the studio shooting some videos, and I asked him about legacy. This was a killer. He said, "Mike, don't play a finite game. Play an infinite game. It's a game much bigger."
7. The price gets harder when you no longer have to pay the price. We've all reached a certain level of success, and it's so easy to simply coast. I realize that being true to ourselves means always pushing. Dreams are free, but maturity is expensive.
8. The loss of what you could have become is greater than any other loss. The John Maxwell Team started when John was 64. Since that time over 24,000 people have been certified to use his methods to lead and coach others. By that time, John could have easily retired — but through a shared vision, great partners, and wonderful people, he's affected more change in his latter years than when he started publishing his best books! This leads into the next point…
9. If you don't grow, the greatest loss in life will be at the end because that's when all the compounding takes place. If you're an investor, you understand this principle financially — but it's also something that rings true for growth, transformation, and legacy. For years, John was a speaker and writer, but all that work compounded towards the latter part of his life through the John Maxwell Team. Had he not kept pushing forward, he would have missed out on so much — and it's clear that much of the world would have missed out as well.
10. Have some place to go before you leave where you are. Many of the people I met were looking to leave their current profession and make a career pivot into leadership, coaching, or speaking. One of the most common questions I asked people was, "Why did you join the John Maxwell Team?" The answer: "You have to have a place to go before you leave where you are." Wow. Community rocks.
One Final Highlight:
Working a conference is very different than attending one. While it's true that I miss out on a lot of the content, I'm also privileged to have experiences that others normally wouldn't.
One of the highlights of my experience was having John Maxwell, Lee Cockerell, and Robert Cialdini all in the same room.
Anyone who knows me knows it takes a lot to prick my emotions but this was special. I always tried to connect people with one another but this was another level. This is the first time they all met.
These three have impacted literally billions of people. They're all in their 70s and still going. They love their work. They came from humble beginnings — all of them.
How I get these opportunities, I don't really know — other than being generous, mastering my craft, and not letting all this become something I hold on tightly to. This may sound arrogant, but I've always felt my abilities were bigger than past organizations I worked for. It didn't matter if it was a church, business, or client. I just knew I could do more, but I never ran for greener pastures or more money.
I finally feel like I've found a cause so big that it tests my upper limits and demands the best of me. While I love working hard, my work and status are not my identity. I hold them loosely, and maybe that's why more keeps coming. Sometimes I'm surprised by the kind of stuff that happens. This was one of those moments.
Maybe that's why I was there — I was the one picked to be entrusted with that responsibility, for such a time as this.
Maybe you are where you are for such a time as this, too. All I can tell you is what I've tried to do since I was a teen: don't look for a significant place to serve, make where you serve significant.
A Free 5-Part Series on How to Market Yourself As A Coach or Speaker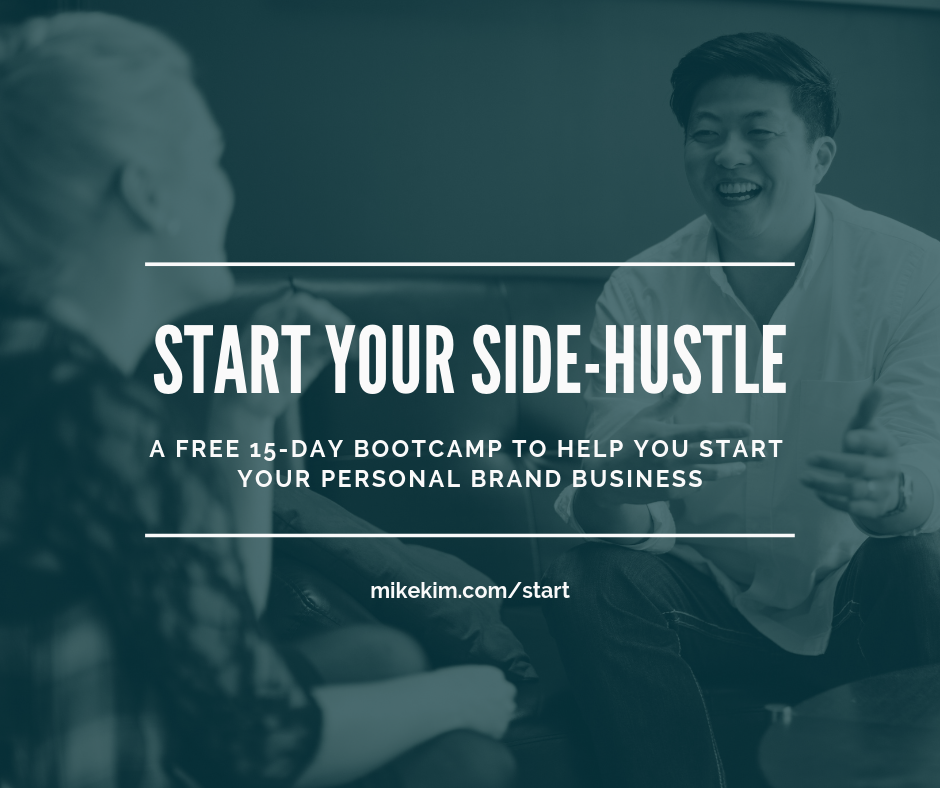 I've put together a free teaching series (5 hours of content!) called the Brand You Bootcamp for those who want to start a side-hustle and eventually scale into a full-time business.
How to market yourself as a coach, consultant, speaker, blogger, or podcaster
What tools to use when you start, and why you do not need to "spend money to make money"
How to position yourself as an authority, even if you're just starting out
How to properly identify your ideal buyer with sniper-like accuracy (no, it's not about demographics)
How to create an irresistible lead magnet that pulls in subscribers like a tractor beam 
Over 800 people have gone through this bootcamp, and I've received rave reviews saying it's better than courses that cost $2,000. It's free, so if you're looking to start, run, or grow your personal brand business, join the bootcamp today: