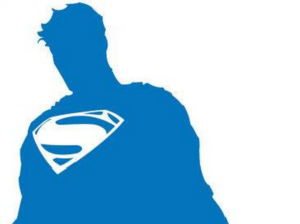 Warren Buffet once said, "The best thing I did was choose the right heroes."
With this last blog post of the year, I wanted to share several people that have made a huge impact in my life in 2014. I also want to thank these folks publicly. I would not where I am today with them. I suggest you acquaint yourself with them via whatever channels they have available.
But first, I want to thank you for being a part of my life via this blog. To know you are reading is a huge honor. Your comments and podcast reviews are like bite-sized encouragement pills. To be able to share what I've learned on my journey with you is a privilege.
Thank you.
In no particular order here are some of my heroes from 2014, a "Hall of Fame" of sorts:
1. Eric Peoples
Not everyone goes through life knowing someone that has walked with them through nearly every stage of personal and professional development. Eric Peoples is one such person. Though I've known him since I was 16, he has always allowed me to "grow up" and treated me as the person I would become, not the person that I was.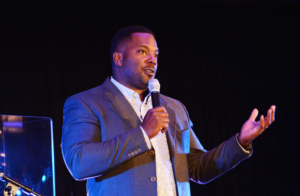 (If you mentor or are being mentored by anyone, that last line is huge.)
Nearly every week, Eric provokes me to greatness with explosive texts and phone calls of empowerment and wise insight. He is a true father in the faith. Some of my favorite one-liners from "Rev" this past year:
"Mike, your fight is fixed. Christ has rigged the match in your favor!"
"You are the piece to someone's puzzle. Lean into that, and you'll have peace in your puzzle."
"Lifting you up today. Get ready, it's coming. Happy NOW year."
If those lines don't encourage you, I don't know what will.
This year, Eric and his wife Melissa stepped out to plant Legacy Church, just outside Hartford, CT. I've been privileged to help their operations behind-the-scenes, and they are growing … fast! If you live near Hartford, visit Legacy Church.
Did those one-liners encourage you? For more, download Pastor Eric's free e-book, The Courageous Life here.
2. Ray Edwards
When I stepped into business and marketing, Ray was the person God had put in my life as a model of blending ministry and business. Plus he is a copywriter!
Ray's blog and podcast impacted me from afar for years, but this past year I got to spend much more time with him in person. His belief in me, my abilities, and my call have helped me step into the next season with confidence. My life (and yes, income) goes up several levels every time I hang out with him. But beyond that, I really like Ray — which is why I plan to hang out with him even more in 2015.
These are my 3 favorite episodes from Ray's podcast this past year … subscribe to his show. I never miss an episode.
3. Jared Easley
I've written about Jared Easley before, but that was before we were friends. This was a year of great success for Jared — he founded and launched the Podcast Movement conference and wrote a #1 Amazon best-seller, Podcasting Good To Great.
I was fortunate enough to have Jared invite me to share in some of his success. He gave me an opportunity to speak at his conference, write the foreword to his book, and even interviewed me on his podcast.
But more than that, Jared is a friend that I continue to walk with. We've spent many hours on the phone, sharing about faith, finance, and family. He constantly talks about me to influential people, and has opened so many doors for me. Thank you, Jared.
4. Joshua Finley
Josh has been a longtime friend, someone I've been privileged to grow up in ministry and leadership with. But the one conversation I still remember after all these years was when I was about to propose to my (now) wife.
He told me, "God is going to give you new 'lenses' for each season — engagement, marriage, every step. Through it all, remain a student of your wife."
Josh is now the lead pastor of a great church pioneering multiple sites just outside Rochester, NY. He is an amazing leader that has stepped into the fullness of his calling right before my eyes. When I moved into business, Josh was among the first to open doors for me. He referred my first clients, opened his pulpit for me to preach, and saw the value in what I was doing.
If you live anywhere near Rochester, NY you should visit his church, Elim Gospel Church.
5. Kary Oberbrunner
I first heard of Kary from my friend Jared Easley. Since then, Kary has become a constant voice of inspiration and guidance. His personal journey has been one I can fully identify with, transitioning from the ministry into business.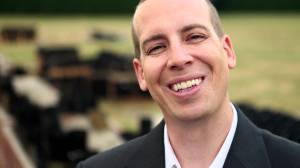 I've gotten to know Kary by interviewing him, and we've touched base throughout the year. He is constantly connecting me with great people within his tribe, and I can't wait to get to connect with him further this next year.
Kary has been a soul on fire for awhile, but this past year his work really came to the fore in the thought leadership space. These following resources are "musts" in my humble opinion:
What's the lesson here?
There are countless more people I could mention on this list. These folks fit what this blog is about, and also have online resources you can learn from. (I wish more of my heroes were online … ahem. That would be lesson #1).
Two things I noticed about this group (besides their courage, integrity, and hunger):
They have all deeply encouraged me personally.
They have all taken the courageous step of giving me a chance.
Lesson #2 would be point #2 above … it's what sets them apart. They have displayed incredible amounts of trust in me, which I will never forget.
To be truly memorable in a person's life requires you do or give something to them they cannot get themselves. These folks held the keys to doors I could not open myself. Then they opened them.
In 2014, I chose my heroes wisely. Take some time to learn from the resources I've outlined here. Perhaps they will impact your life, too.
---

Liked this post? Check out: