One of the most common complaints I hear in leadership has to do with the lack of mentors. The premise is that we haven't gone further because there aren't any willing mentors. But not having a mentor is not an excuse. The reason?
No mentor can ultimately grow you. Only you can.
Several years ago, I attended a presentation my wife Iris gave at the University of California San Francisco. She was accepted to an exclusive summer program under one of the nation's top neurologists.
I was amazed at the culture of mentoring in the medical field. But she still had to do the research, conduct the experiments, and present her findings. No one else could do that work, not even her world-class mentor.
A mentor can guide, teach, and challenge. But you still have to do the heavy lifting. A mentor can only take you as far as you want to go. The catch? You must already be moving forward.
I know you have potential. You have talent. But do you have hunger?
There is too much information at our fingertips to think that we can't go further than where we currently are. Don't wait for a mentor to start growing. Grow until you find one, then keep at it.
Litmus Test Questions
Maybe you're looking for a mentor. Here's a few questions a good mentor would ask you.
What books have you read?
Have you identified the other leaders in our field?
Do you ask questions or interact with these leaders, either on their blogs, social media, or live events?
What skills or goals are you expecting from me that you can't develop or accomplish yourself?
How much time have you put into those goals before contacting me?
If you don't have solid answers, you'll remain mentor-less. Good leaders and experts will not mentor anyone that doesn't already have proven self initiative. You've got to be hungry enough to answer these questions through actions, not just words.
If you don't already read, listen, or watch, how do you expect to receive anything from a mentor? A mentor can't just neurologically transfer what they know into your brain. I asked Iris if they discovered anything at UCSF on this kind of procedure. No luck. Guess we'll all have to stick to the old-fashioned way.
This post will be the first on a series of mentoring. Upcoming topics will include what I've learned from mentors, what I've done when I couldn't find mentors, and how to get people to want to mentor and promote you. In the meantime, get started by answering these litmus test questions with actions.
Question:  What answers can you share to the litmus test questions above?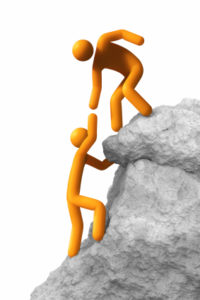 If you liked this post, consider subscribing to my blog. Also check out:
3 Simple Ways To Practice the Art of the Start
8 Must Read Definitions of Average
Top 10 Posts of My Newbie Blogging Career