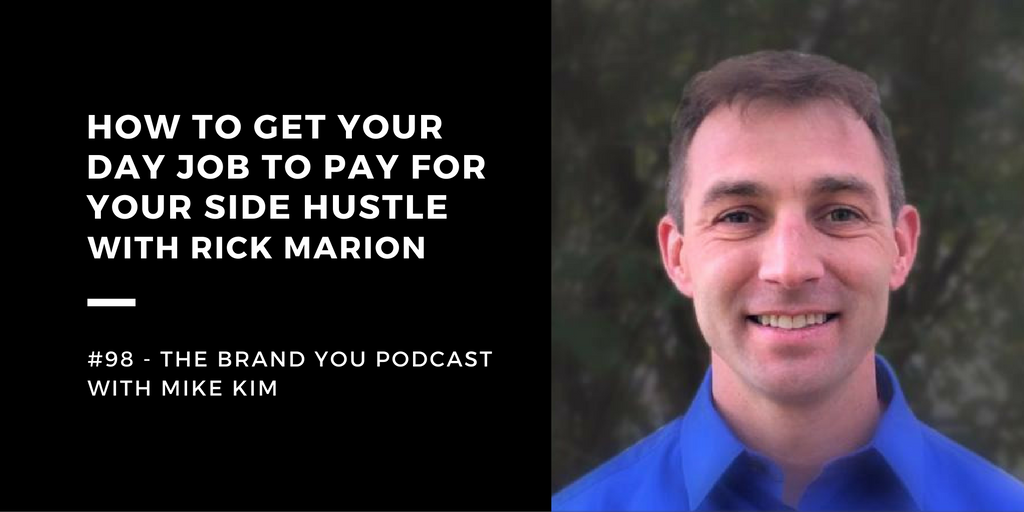 If you're still working a regular job and building out your side-hustle, today's guest Rick Marion has some great tips for you.
Rick is a career coach and personal development guru — who also happens to be awesome at attracting high-paying job offers. In fact, he was recently offered 8 different jobs, all at over six-figure salaries.
The key is understanding how to leverage more of your current situation, and that includes getting your day job to "pay" you to build your side-hustle. In this insightful interview, Rick shares some amazingly practical steps to excelling at work so you can expedite your pivot.
Get Rick's Strategy Guide and a special bonus here.
Today's Productivity Tip:
In this episode, Anil Agrawal, our resident productivity expert, recommended WordSwag.
Submit Your Entry for the Brand You Podcast Episode #100 Contest Today!
We're marching ever-closer to episode 100. Get all the details here: mikekim.com/contest and enter today!
Liked this episode? Leave a review on iTunes and I'd love to give you a shoutout on the show! Make sure to leave your website so I can link back to it.
I'd love to connect on social: