"I remind myself every morning: Nothing I say this day will teach me anything. So if I'm going to learn, I must do it by listening." – Larry King
Today, we have the amazing opportunity to learn from leaders at an intimate level — not just through blogs or social media channels, but listening via podcasts.
Like any medium, there are the "heavy hitters" in the podcast world — the folks that set the standard (and really don't need all that more promotional help). All it takes is a quick search in iTunes to find them. They'll be sitting at the top of the charts.
There are, however, many other excellent podcasts out there. Here are five that I've come to love that you may not know about. They've enriched my life and personal brand business tremendously.
1. The Read To Lead Podcast with Jeff Brown.
What: An interview-based show, Jeff interviews the authors of some of today's top business and leadership experts.
Why I listen: Jeff does the hard work of finding great books I should read; if he talks about a book I know it's worth checking out. One book I found as a result of the show was Business Brilliant by Lewis Schiff. It has become one of my favorites. You can listen to Jeff's interview here.
Jeff also challenges me in the craft of podcasting. His professionalism, production, and execution in hosting a podcast is second-to-none (he has a background in radio). If you're a reader, The Read To Lead Podcast is a must.
Twitter: @THEJeffBrown
Web: readtoleadpodcast.com
Subscribe to the Read To Lead Podcast in iTunes.
2. The Art of Value with Kirk Bowman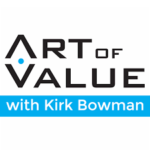 What: An interview-based show, Kirk talks about one of the most challenging areas of running a personal brand business: pricing!
Why I listen: Kirk brings on a wide variety of guests that talk all about pricing, profits, and positioning. One of my favorite episodes is an interview he did with Dan Morris called "How To Have A Value Conversation", which was like sitting in a top-level business lecture at Wharton. If you need to learn about how to price your products or services, listen to the Art of Value.
Twitter: @ArtOfValue
Web: artofvalue.com
Subscribe to The Art of Value in iTunes.
3. ConversionCast with Tim Paige of LeadPages
What: A short, punchy interview-based show, Tim covers (you guessed it) opt-in and sales conversion tactics.
Why I listen: This is one of the most practical business podcasts you'll find. Each episode features the success stories of various entrepreneurs backed by hard data. The stories are amazing, like sales jumping 43% because of a change in button color, or a single word change in the sales copy. If binge listening was a crime, I'd be guilty of it because of ConversionCast.
Twitter: @ConversionCast and you should also follow @TimThePaige
Web: conversioncast.com
Subscribe to ConversionCast in iTunes.
4. Igniting Souls with Kary Oberbrunner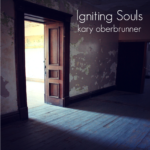 What: A monologue show with author, speaker, and coach Kary Oberbrunner designed to help you discover who you are, why you're here, and where you're going.
Why I listen: Kary's podcast essentially feels like he is reading directly from the "book of unwritten rules". You know what I'm talking about — every organization, industry, and business has a "code", including the peronal brand space. Kary's show takes you behind the curtain. Episode 25, "Why The Big Guys and Gals Don't Want To Partner With You And How To Change That" is legendary.
Twitter: @KaryOberbrunner
Web: dayjobtodreamjob.com
Subscribe to Igniting Souls in iTunes.
5. The Brand You Podcast with Mike Kim (me)
Disclaimer: Many personal brand builders are afraid to promote themselves. My goal is to help you feel more comfortable with this. If you're genuinely good at something and generously adding value to others, don't be shy about it. People are waiting for what you have to offer.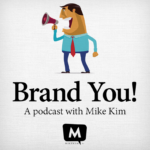 What: A (mostly) monologue show that outlines marketing tips, tactics, and strategies for people looking to build an iconic and profitable personal brand business.
Why you should listen: I share marketing lessons learned from being CMO of a multi-million dollar company that you can apply to your personal brand. I try to keep it short and practical; like How To Get Client Testimonials or How To Establish Value (While Taking Lower Paying Clients). I've helped nearly 100 businesses and organizations build their brand, and my mission is to help you live your message, love your work, and leave your mark on the world.
Twitter: @MikeKimTV
Web: you're on it =)
Subscribe to the Brand You Podcast on iTunes.
What podcasts do you follow? Let me know in the comments below.