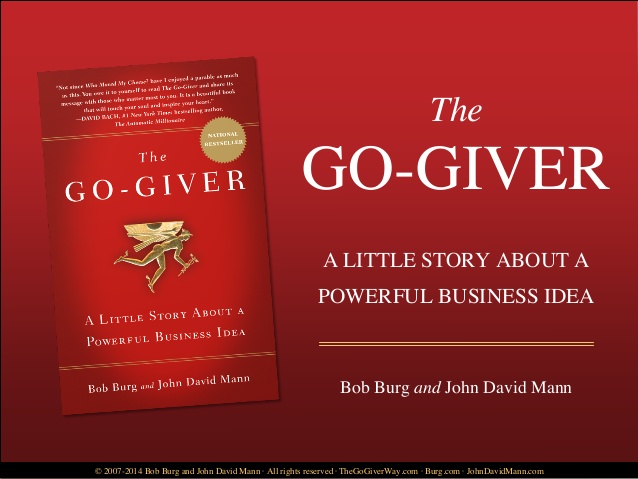 Several months ago, one of my mentors Ray Edwards sent me a copy of Bob Burg's classic book, The Go-Giver.
I'm a bit late to The Go-Giver party (several years, actually) but it has quickly become one of my all-time favorites.
If you've already read this book, the following quotes may provide a gentle reminder of the essence of its message. If you haven't read The Go-Giver … I highly recommend it! It has impacted every facet of my business and life.
Here are just a few of my favorite quotes:
"As long as you're trying to be someone else, or putting on some act or behavior someone else taught you, you have no possibility of truly reaching people. The most valuable thing you have to give people is yourself. No matter what you think you're selling, what you're really offering is you."
"Your true worth is determined by how much more you give in value than you take in payment."
"Your income is determined by how many people you serve and how well you serve them."
"Typically, the more successful (givers) are, the more willing they are to share their secrets with others."
"(Givers) love to give. That's why they're attractive. Givers attract."
The Go-Giver has kept me from "mission drift" …
The foundational challenge of the book was for me to change my perspective away from me, and to those that I serve. While I'd like to think I've always thought this way, it's just not true.
We all experience mission drift.
That's why reading (and re-reading) this book over the past few months has been so important. Each day that passes is one day closer to pursuing my entrepreneurial endeavors full-time … and one day closer to not having the "security" of a regular paycheck.
That scenario breeds a certain kind of anxiety, which puts me in the wrong state-of-mind.
As I've delved more and more into providing freelance services, landing consulting clients, and providing paid products, my perspective has naturally shifted: to leads, conversion rates, and sales.
Yet the very thing that allowed me to attract clients in the first place was the focus on service, not sales. It was going the extra mile when someone emailed me, sharing an idea freely with a colleague, or plugging away each week to share insights on my blog or podcast.
I'm just one person in a sea of many that has been profoundly impacted by this book. If you have yet to read this quick but powerful book … get it here.
I also recommend you follow Bob Burg on Twitter @BobBurg. He always shares great articles (not just his own) and engages regularly with others.
Read The Go-Giver … it will impact more than your business, it will impact your perspective on life.
---
Liked this post? Check out: