One bizarre thing about pro wrestling is the idea of championships and win-loss records. For the most part, they don't exist. Characters have matches to advance a storyline, not win. You never see an irrelevant guy become champion because story, TV ratings, and popularity define success, not wins.
There's also no off-season:  there's no such thing as the "2013 Pro Wrestling Champion." Because there's no off-season in ministry, our successes can become like a pro-wrestling championship:  empty. Ministry can easily slip into increasing ratings, i.e. the constant pressure to draw attendees, meet financial goals, or create buzz. Because there's no off-season, staff and volunteers jump from one project to the next.
Unlike other sports with defined seasons, championships, and off-seasons, pro wrestlers live on the road 52 weeks a year. They don't travel as a team and they're individually responsible to pay their own expenses and lodging to make the telecasts. No wonder so many of these guys die young…they live at an unsustainable pace and pump their bodies full of unnatural supplements. Why? To maintain their appearance to draw ratings. No one cares about the last match because all that matters is the next show. This sounds too much like people in ministry! Burnout, anyone?
As a leader in both my company and church, my responsibility is to create efficient infrastructure and delineate vision, goals, and deadlines clearly. I don't want people to suffer because I neglected to build a sustainable culture. So:
If 20% of the people truly do 80% of the work, train more people.
Cut out that event in the calendar that is a Pyrrhic victory:  one that costs more than the prize attained.
Build a system that allows people to take a break from ministry before they get burned out.
Put a back-end date on commitments so there are no hard feelings on either side.
I'm not against working hard. But if I'm going to expect the best out of my people, then I also have to build in time off and celebrate victories. Learn to build in an off-season. Your championships will mean a lot more.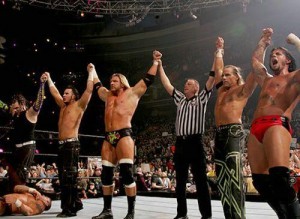 If you liked this post, check out: