I'm a proud alum of Cliff Ravenscraft's (known affectionately as the "Podcast Answer Man") Podcasting A-Z Course. My goal here is to present you with the most straightforward review I possibly can. I will use my choices as the basis for the review and pricing. Bottom line:  I had such a great experience with it that I became an affiliate.
Backstory
Cliff's name kept coming up across various podcasts I listening to. Many credited Cliff with helping them get started, so I earmarked him in case I ever wanted to start a podcast.
I had to opportunity to meet Cliff and his wife Stephanie at Michael Hyatt's Platform Conference. Cliff spoke on the benefits of podcasting, and though I had heard some of his talk from free content on his website, this was the final push over the edge. I wanted to start my own podcast, and I wanted to do it right.
NOTE:  I highly recommend you watch Cliff's presentation from Platform Conference here. It's a great starting point and was one of the best talks at the entire conference.
1. Price & Length
Retail price:  $1999.00 (use my affiliate code "MikeKim" for a $500 discount)
Price with my affiliate code:  $1499.00
Duration:  4 weeks
2. Additional Costs (assuming you already have a blog)
A) Equipment:  I went with the past of least resistance and purchased Cliff's Podcast Equipment Package for $1599.00. This is the all-in-one package, including the mixer, mic, stands, cables, and recorder. NOTE: You can podcast with a very small equipment budget, nowhere near the cost of the package I got. With my music background, I'm kind of picky with audio so I just went all in.
B) Software:  You will need software to edit your audio. This was negligible for me; I already had Adobe Audition (what Cliff recommends) since I use Adobe Creative Cloud for work. You can also use freeware such as Apple's Garageband or Audacity.
C) Artwork:  I got this done free from a designer friend of mine, Jason Clement: influencebrokers.com
D) Music:  I got this done for free from a friend of mine, Dave Goetter. As you can see, favors from friends are a great help … though I will say I've sent both these friends a lot of business. Sowing generosity reaps generosity!
E) Hosting:  Cliff recommends hosting your audio files someplace other than your blog because of server space. I host with Libsyn which costs me $20 per month.
To summarize my costs:
Equipment:  $1599.00
Software:  none (since I already used Adobe Creative Cloud)
Artwork:  none
Music:  none
Hosting:  $20 per month
NOTE:  Cliff has relationships with graphic artists and music services he trusts. It is your choice whether you want to use them or not. I'll quote high on these, but Cliff never pushes you to use them. They are just offered in one place for convenience sake.
Graphic Design:  $350.00 for the full-package, lesser options available
Music:  $30 to $50 per song with Music Bakery
Full Audio Service Package:  $539.00 with Mike & Izabela Russell (voiceovers, scripts, music, etc.)
3. Workload – 10 hours a week
Most of the course content is video (which means you can't do much else when watching it) though audio is readily downloadable. Video is preferable because you will see the diagrams of buttons on the mixers, signal flow, and more.
I invested about 10 hours per week between consuming the content, doing the homework, engaging with classmates on the forums, setting up my gear, and mapping my own show ideas. This includes ALL the hours I put into building my podcast, not the amount required to do complete assignments or listen to all the lectures.
4. What You Will Get
A) Top Priority from Cliff:  Cliff states that during a Podcasting A-Z session, his students have top priority. He delivered on this repeatedly. I was amazed at the level of his engagement and turnaround time. Looking at his timestamps, he often wrote very late at night to honor his response times.
B) Technical Know-How:  If you do the work, you WILL get a podcast up and running before the course ends. Once the course is over, you will still have access to course materials for reference. I still reference them every week, even after being 3 weeks into my show.
C) Sustainable Pace:  Cliff actually "locks" the content for future weeks so students don't get ahead of themselves. The curriculum is very structured and deliberate, with one week building on the previous. There were weeks I hustled to keep pace, and that was because I wanted to make sure I got my show running in time for him to give me 1-on-1 feedback. It was very doable, and this is coming from someone who, at the time, was working a 60-hour per week C-suite job.
D) Networking Opportunities:  Podcasting is a hot topic, but the space is still significantly less-crowded than blogging. Networking, affiliate, and even client opportunities abound. I've had several people I met at Podcasting A-Z inquire about hiring me. My classmates were also very supportive; it was great to be able to launch out of the gate with a few subscribers / listeners in hand!
NOTE:  The service Cliff uses to facilitate the course is called Basecamp. There's a bit of a learning curve, but after a few days I got the hang of it. The great thing about Basecamp is that you can see all correspondence between class members and Cliff. That allows you to glean from other people's questions. If you don't want to use Basecamp, you can set it to push to your email and respond to comments that way.
5. What You Won't Get
A) Individual 1-on-1 Time with Cliff:  You won't get 1-on-1 consulting time with Cliff. He is very upfront that this is a group coaching course. You will, however, get 1-on-1 written communication with him via Basecamp, the forum he uses to house the course. You will also get 4 live webinars with Cliff and classmates to ask questions in real-time.
B) Marketing Campaign:  This course is about podcasting, not marketing. Cliff WILL give feedback regarding your show title, branding, artwork, and audio (if you post an episode before the end of the class). But if you expect Cliff to tell you what you should podcast about, you'll be disappointed. It's not that kind of course.
C) How To Run Your Show:  At first I thought this was going to be a drawback, but later I appreciated that Cliff didn't tell me how to do my show. The temptation would be to do it just the way he says instead of letting your creativity run its course. You will not get templates on how to perfectly script your show, or a list of questions you should ask every interviewee. However, read the next note.
NOTE:  You won't get any of this in the course, but that doesn't mean you can't ask Cliff about it. He will answer any question you have regarding your podcast.
6. Stuff I Would Not Have Attained Without This Course
A) How To Run My Own Online Group Course:  I saw how Cliff ran his course, why it was successful, and had enough time to process what aspects I could apply. Though I subscribe to other monthly membership sites, this was the first online course I've taken. I would implement much of what Cliff does if I ever do my own. This was invaluable.
B) Relationship with Cliff:  Interaction with influential people is a seed worth sowing. What would you pay to be known by someone who has tremendous influence and reach? I wouldn't have been able to build further rapport with him without this course.
C) Life Changing Encouragement:  One month is a long enough to go through a course and doubt yourself many times. This one message got me through many of the recent weeks in producing my show:
Podcasting A to Z:  5 out of 5 stars.
My Total Cost:  $3098.00 (tuition, equipment expenses)
My Total Time:  40+ hours over 4 weeks
AFFILIATE DISCOUNT:  I recommend Podcasting A to Z so much so that I signed up as an affiliate. If you enroll, use the code "MikeKim" to knock FIVE HUNDRED DOLLARS ($500) off tuition.
---
My Podcast: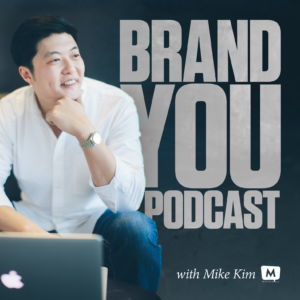 Finally, check out the podcast Cliff helped me launch called The Brand You Podcast. It's currently ranked #1 in iTunes in the personal brand key search.