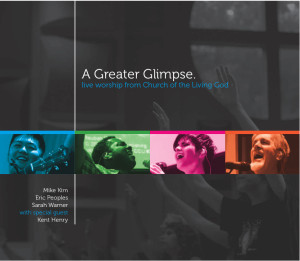 Check out a preview of one of our original songs, The Great I AM from the upcoming album A Greater Glimpse.
I know these parts can't be heard on a short clip, but some thoughts behind the song: on the verses I tried to put into words some of the things I'd been meditating on regarding the greatness and awe of God…how impossible it is to truly describe him despite our best linguistic efforts. Much of it was based on different verses in Exodus ("the great I AM") and Revelation ("the sound of many waters" and what it would be like to be in the presence of God…in heaven).
The chorus came first and was birthed in a time of personal worship and echo the only things saints and angels in heaven seem to be able to conjure up to describe God: that He is holy, worthy, and awesome. I often picture the throne room whenever I worship with the chorus. The verses were crafted over a the course of a year or so. Wordy verses, easy chorus, but it was intentional and if I could just put "!!!!!!!!!" into a song to somehow to express our inexpressible God, I would have. On the full version you'll hear an instrumental vamp at the end…it was my way of saying "!!!!!!!!!" The album will be available on Tuesday December 21st. Or, if you go to my church you can get a copy of the album on Sunday December 19th =). Hope you like what you hear so far!
The Great I AM preview (2010 Mike Kim)
THE GREAT I AM
2010 Mike Kim
In the presence of Your glory
Where the things of earth grow faint in light of You
Would You turn Your face to shine here?
How we want a greater glimpse of who You are
You are holy, You are worthy
You are awesome in this place
God Almighty, show Your glory
Come be awesome in this place
Mere words could not describe You
How majestic are Your ways in all the earth
Like the sound of many waters
We will lift our voice to give You highest praise!
Hallelujah, hallelujah
High and lifted up, You are the Great I AM