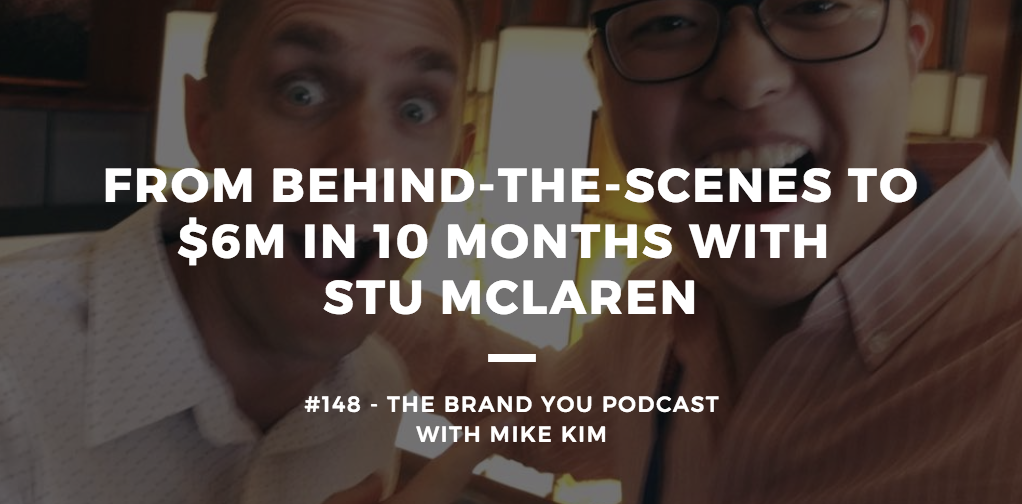 Stu McLaren is a master marketer and the genius behind building some of today's largest membership sites.
In this interview, we recount his unique journey from being the behind-the-scenes strategist to stepping "out front" to become his own brand. It's a journey that I've walked to a small degree, and one I know that many listeners are on right now.
A sneak preview:
The difference between unconscious competence vs. conscious competence
The two types of entrepreneurs and why businesses don't grow without both
The fastest way to gain momentum in your personal brand
Resources Mentioned in This Episode:
Connect with Mike:
Instagram – https://www.instagram.com/mikekimtv/
LinkedIn – https://www.linkedin.com/in/mikekimtv
Facebook – https://www.facebook.com/mikekimtv/
Twitter – https://twitter.com/mikekimtv
YouTube – https://www.youtube.com/c/MikeKim
Subscribe to the Brand You Podcast Here:
Did you know? The Brand You Podcast was recently listed as an "all-time bestseller" in Apple Podcasts for marketing. Subscribe free to get new episodes every Wednesday:
---
EPISODE CREDITS:
If you like this podcast and are thinking of creating your own, consider talking to my producer, Danny Ozment.
He helps thought leaders, influencers, executives, HR professionals, recruiters, lawyers, realtors, bloggers, and authors create, launch, and produce podcasts that grow their business and impact the world.
Find out more at https://emeraldcitypro.com