In this episode, I take you behind-the-scenes of my latest blog design. Several months ago I rolled out a new, more modern look.
Some of these changes are helping me grow my email list and readership, and most are fairly simple to do.
A Quick Preview of the Podcast:
3 simple tweaks I made that have allowed me to gain readers
4 tweaks I want to do in the future
Screenshots:
The Right-Aligned photo (and no date):
The "Liked this post?" related articles: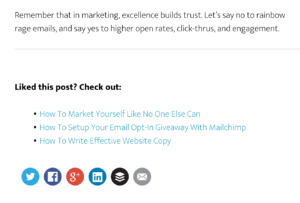 Resources mentioned in today's episode:
Connect with Mike:
Instagram – https://www.instagram.com/mikekimtv/
LinkedIn – https://www.linkedin.com/in/mikekimtv
Facebook – https://www.facebook.com/mikekimtv/
Twitter – https://twitter.com/mikekimtv
YouTube – https://www.youtube.com/c/MikeKim
---
Would you review this show? I would consider it a great honor if you would leave a written review on iTunes. It's one of the best way for word to get out about this podcast. I read every single comment … leave any review you want, as long as it's honest. Thank you!