Pivot Profile: Jody Maberry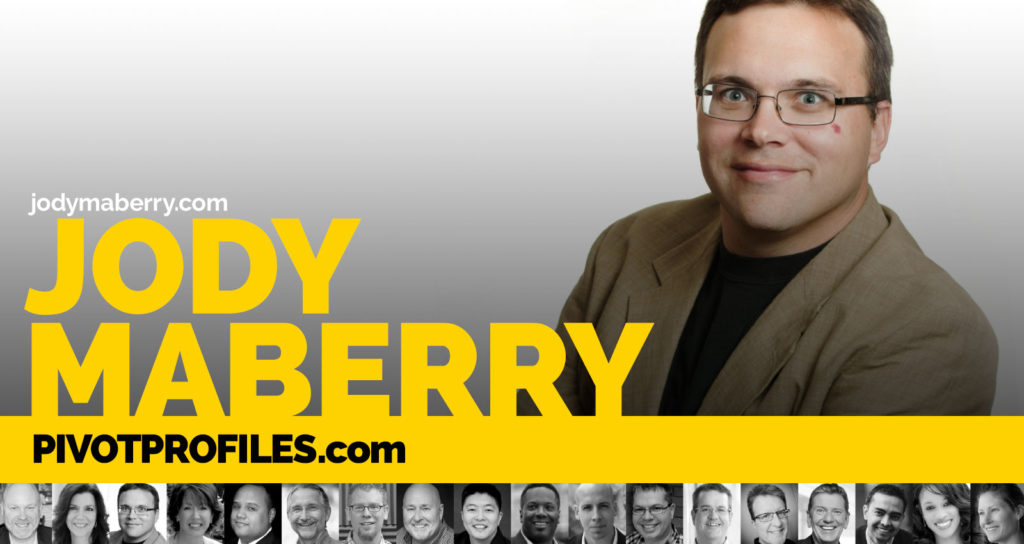 Jody Maberry is a new media consultant and an Academy of Podcasters Awards nominee. He is regularly contracted to host podcasts with New York Times best-selling authors and C-suite executives from brands like Disney, Morgan James Publishing, and Tommy Spaulding Companies.
Before this, Jody made several pivots: he was a financial analyst who then followed his boyhood dream of becoming a park ranger. After working in the wild and beautiful Northwest outdoors for 8 years, he pivoted into a career as a project manager for a company that built luxury homes. He made the leap to running his own business full-time in 2013.
Jody, you've held a number of jobs. What was your journey like?
My most recent position was doing marketing for a small company that built luxury homes. With only two hours left in the workday on a Friday, I was told not to come in the following Monday;  I was essentially let go. The owner told me it would only be for a couple of weeks, but it turned out to be three months. After three months, I returned to work but was fully aware that the "safety" of a traditional job was anything but safe.
A similar situation happened when I was a park ranger. Twice, the park I worked at was put on the closure list. The same year I left parks, in 2011, over 80 park rangers (30% nationwide) were laid off. If you are not safe in a government job, where are you safe?
When the opportunity arose to work on my own, it was the right thing to do. However, I could not have launched my business successfully without stewarding my relationship with my former employer and doing retainer work for them.
What was the most important mindset shift that helped you make a successful pivot?
You have to bring specific value to someone so they can see why they should work with you. That seems so simple and obvious, but it did not hit me right away. I thought people would hire me because I was on my own and needed work. As a consequence, my offering was so general and generic that it wasn't much different than standing on the corner with a "Will Work For Food" sign. I had to provide value and be specific.
Looking back, what was the most important action step you took that positioned you for a successful pivot?
The most important thing was investing in myself. In the beginning, I played defense and only guarded my time and money instead of intentionally moving forward.
After a few months, I took a chance and went to the Pioneer Nation conference in 2014. It introduced me to new people and new ideas; then I went to Ray Edwards' 2015 conference in San Diego.
The difference with Ray's event was that by that time, I adopted a value mindset. It allowed me to have better conversations and was the catalyst that turned my business around. I began to work more deliberately; I implemented what I learned and made valuable connections. Several people I met at that workshop hired me in the next few months. Something changes when you are willing to invest in yourself.
What was the biggest surprise, good or bad, that you experienced?
I was surprised at how time operates. When I first started, I felt like I had an abundance of time. It was not uncommon to go for a hike once or twice a week right in the middle of the day. The truth was, I had never faced the lack of structure you have when no one expects you to punch a clock or puts deadlines on you.
Fast forward a couple of years, and I am surprised at how little time I have. It is the same problem I faced when I had too much time; I didn't have enough structure, systems, or processes.
Freedom is found through time management. In both cases I had the same amount of time. The key is prioritization and having a structure in place to get the most important work done. The beautiful part now is that I manage my own time priorities rather than have someone else put their priorities into mine.
[clickToTweet tweet="Freedom is found through time management. @jodymaberry" quote="Freedom is found through time management. @jodymaberry"]
What would you have missed out on had you never made this pivot?
I would have never experienced the absolute joy in finding out what I can really accomplish. I would have kept quiet and the world would never have known my voice. Since I am a podcaster, I mean that literally and figuratively. Had I never made my pivot, I would have never experienced who I really am.
When you have a traditional job, there is a ceiling on what you can accomplish, and it is usually determined by someone else. When you are self-employed, your success is determined by results. If you do not produce value, your kids do not eat breakfast.
Say a friend is thinking of making a career pivot and asks for some pointers. What's the most important thing you would tell him or her?
Consider what it will take to operate the "business side" of your pivot. I know someone who tried to make a pivot into running his own landscaping business. He was good at landscaping; an artist in the yard. He knew his stuff when it came to landscaping. But he did not consider pricing. He did not consider bookkeeping. He did not consider marketing, outreach, how he would get customers, or how he would follow up with leads. He did not even consider who his customers would be.
So my advice is to be courageous and make the leap, just understand what happens when your feet hit the ground after you leap.
[clickToTweet tweet="Make the leap, just understand what happens when your feet hit the ground after you leap. @jodymaberry" quote="Make the leap, just understand what happens when your feet hit the ground after you leap. @jodymaberry"]
Introducing The Pivot Profiles, a 'magazine' featuring 18 real-life pivot success stories, just like Jody's. It's yours, absolutely free.
The singular goal of this magazine is to give you a wide array of people, personalities, and pivots for you to identify with. This is a powerhouse group. The folks inside hail from a variety of industries:  huge corporations, small business, radio, military, ministry, government, academia; the list goes on.
Some of them launched into solopreneur ventures; others started companies. One left business to enter the ministry, while others left the ministry to go into business. It's all here.