Pivot Profile: Michael Hudson
Michael Hudson is a speaker and consultant. Prior to this he led programs at prestigious schools including Cornell University and the University of Illinois. He has made three major pivots in the past twenty-two years.
Can you share a bit of your career background, Michael?
My career began in academia, where I was the Bruce Failing, Jr. Professor of Personal Enterprise at Cornell University. I was leading a university-wide program to help students prepare for success in small business management.
I had the chance to behave in a very entrepreneurial manner to grow the program, but it reached the point where the program got so big that I was unable to do what I really loved:  teaching.
I made a risky decision that resulted in being let go, but looking back I did that hoping it would lead to my being pushed out. I really didn't have the guts to walk away on my own.
What came next after academia?
I ran a consulting business working with government agencies, non-profits, and businesses. I was a solopreneur but experiencing mixed success. I never seemed to be able to create a stable income flow without taking on major projects that ended up consuming most of my time.
I pivoted out of that primarily because of a serendipitous opportunity to speak at a convention. I was contacted by someone because a keynote speaker had canceled less than three days before an event.
Since the event was close to my home, he reached out to see if I might be available. The event went well, and I was hired by a few people on the way out of the room. Suddenly, I found myself with an opportunity to go into a niche I had never considered: credit unions.
That became the basis for my business for the next sixteen years, and I created a sustainable six-figure business in that market.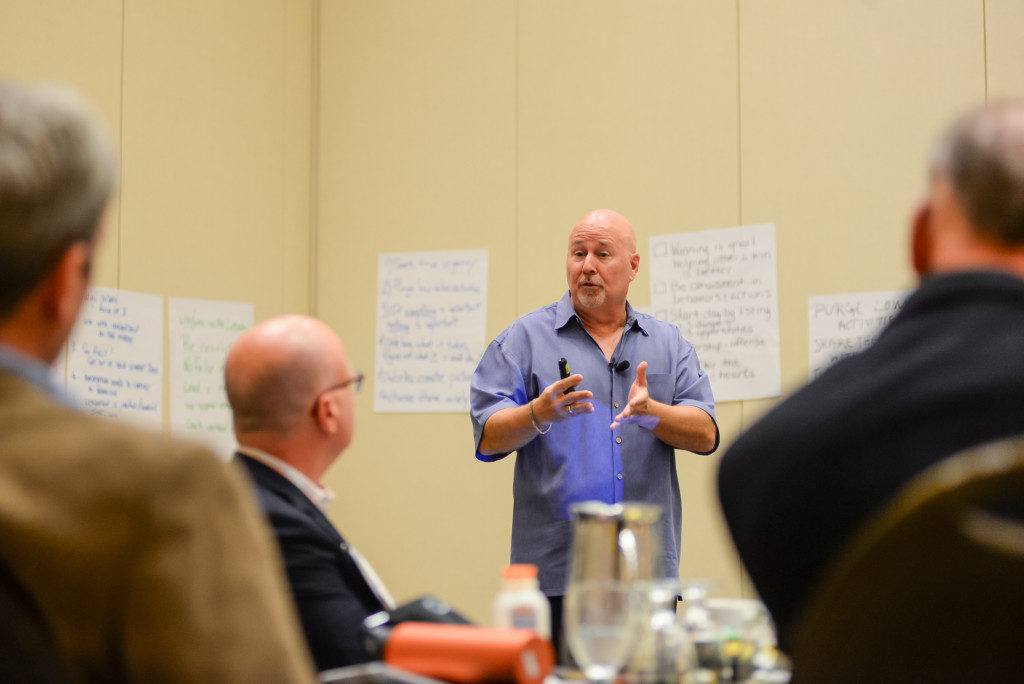 You became an established authority in a profitable niche. Why pivot again?
Everything changed when I went through the "bad work, good work, great work" exercise, which helps you assess whether your work is significant to you. I concluded that nearly 70% of my work was bad work, and nearly none of it was great. I found myself growing bored and increasingly felt that I was not bringing my gifts to bear on the work I was doing.
Looking back, what was the most important mindset shift and action step you took?
In every case the underlying issue was one of dissatisfaction and pretending. In every situation I ended up bored with the work because it wasn't really mine. I felt a bit like that guy in the movie Catch Me If You Can, who was able to make people believe he was something he wasn't over and over again.
An important note:  when I was "invited to leave" the academic world, my first instinct was not to pursue my dreams of an entrepreneurial life. It was to seek other jobs in the same field at other places. One day I decided to take action to align my work with my passions and stop looking to replace the job I had.
What was the biggest surprise, good or bad, that you experienced?
I was surprised at how much easier it was to get started than I thought it would be. That doesn't mean there were no missteps, but when I committed to taking action, it was surprising how quickly results came.
That's not to say that there wasn't a significant J-curve in my income. The J-curve is a reference to the fact that when you are making a change in your business, there will initially be a period where things get a bit worse before you get traction and get better, i.e. they follow the pattern of the letter J.
In retrospect, it was apparent that the length of the bottom of the J and the depth of the dip were directly tied to the level of effort and commitment that I made to the pivot. When I allowed my mind to worry, fret, and fear what might not happen, the dip was deeper and wider. When I kept myself focused and did the work with the same vigor that I had done prior to making the decision to pivot, the dip was shallow and narrow.
[clickToTweet tweet="When I committed to taking action, it was surprising how quickly results came. @DrMichaelHudson" quote="When I committed to taking action, it was surprising how quickly results came. @DrMichaelHudson"]
Let's say a friend is thinking of making a career pivot and asks for some pointers. What's the most important thing you would tell him or her?
One of the things that holds many people back from making a pivot is that they are too tied to the power, position, and prestige of whatever level of success they have achieved, and they fear that walking away from it will cost them reputation and relationships.
To some degree that is true, but only in the world that you are currently in. For example, business people often think academics are less skilled (and vice-versa) because of what each world values. Academia is about ideas and thought, not selling and generating revenue. So if you leave academia for business, you are no longer part of the academic tribe.
The truth is the only people who really care about that tribal identity are the ones who belong to it. When you decide to pivot, you are deciding to leave that tribe. Some will remain involved in your life, others won't. When you focus on becoming part of the tribe that does what you are going to be doing, you will quickly feel at home. The meaningful relationships within your previous tribe will continue.
What would you have missed out on had you never made your latest pivot?
Getting clear on what I believe in and care about has completely changed my life. Instead of being constantly worried about being like the Wizard of Oz, i.e., worrying that someone might pull back the curtain and see that there was much I did not know, I feel alive, engaged, focused, and confident. The work I do now is what I would describe as great work. It can and will change lives, businesses, and futures.
It is amazingly powerful to rise each day and know that today I am going to use the talents that God gave me to serve others in the way that I was intended to serve them. I am delivering value through online courses, books, live intensives, and information. This is my life's work.
My advice:  Say NO to the things you have to leave behind so that you can say YES to the things that really matter. That will enable you to succeed in your pivot.
[clickToTweet tweet="Say NO to things you must leave behind so you can say YES to the things that matter. @DrMichaelHudson" quote="Say NO to things you must leave behind so you can say YES to the things that matter. @DrMichaelHudson"]
Introducing The Pivot Profiles, a 'magazine' featuring 18 real-life pivot success stories, just like Michael's. It's yours, absolutely free.
The singular goal of this magazine is to give you a wide array of people, personalities, and pivots for you to identify with. This is a powerhouse group. The folks inside hail from a variety of industries:  huge corporations, small business, radio, military, ministry, government, academia; the list goes on. We even have a former park ranger!
Some of them launched into solopreneur ventures; others started companies. One left business to enter the ministry, while others left the ministry to go into business. It's all here.