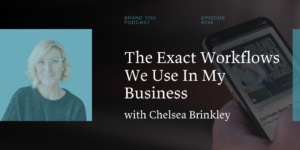 In today's episode, I'm bringing back my Integrator, Chelsea Brinkley. We're diving into the exact SOPs and workflows we use to run this business. I am a visionary and think processes are boring. Chelsea, on the other hand, is passionate about that side of business. She talks through:
The process for managing my calendar
A run-down of our SOPs for the podcast, booking appointments, and live events
The templates we use for every process
As time goes on, we learn and add new things to try and improve efficiency, but these are the current actual workflows we use to keep this business going.  Tune in for a look at the inner working of my business through the eyes of the Integrator who makes all the magic happen.
Resources:
Connect with Mike:
Instagram – https://www.instagram.com/mikekimtv/
LinkedIn – https://www.linkedin.com/in/mikekimtv
Facebook – https://www.facebook.com/mikekimtv/
Twitter – https://twitter.com/mikekimtv
YouTube – https://www.youtube.com/MikeKim
Subscribe to the Brand You Podcast Here:
Did you know? The Brand You Podcast was recently listed as an "all-time bestseller" in Apple Podcasts for marketing. Subscribe free to get new episodes every Wednesday:
EPISODE CREDITS:
If you like this podcast and are thinking of creating your own, consider talking to my producer, Danny Ozment.
He helps thought leaders, influencers, executives, HR professionals, recruiters, lawyers, realtors, bloggers, coaches, and authors create, launch, and produce podcasts that grow their business and impact the world. Find out more at https://emeraldcitypro.com