Fact: You don't need more time. You need more energy. Energy is your greatest source of productivity. But do you have enough? What could you accomplish if you had more energy?
Today's podcast features Bryan Buckley, a high-performance coach I got to know during the most recent semester of The Pivot Course. Bryan is the type of guy that just exudes energy, and today he walks us through what he calls "The Exhaustion Cycle" and "The Energy Cycle" — and how we can tap into better sleep and new levels of energy.
Check Out Bryan's Free Online Conference
I had the privilege of presenting at Bryan's Successful Entrepreneur's Online Conference. This is a free event you won't want to miss.
Check out the Successful Entrepreneur's Online Conference here.
Introducing The Pivot Profiles, a 'magazine' featuring 18 real-life pivot success stories. It's yours, absolutely free.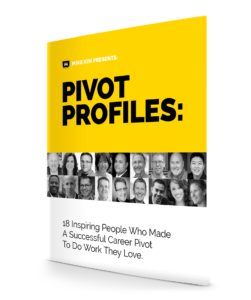 The singular goal of this magazine is to give you a wide array of people, personalities, and pivots for you to identify with. This is a powerhouse group. The folks inside hail from a variety of industries:  huge corporations, small business, radio, military, ministry, government, academia; the list goes on. We even have a former park ranger!
Some of them launched into solopreneur ventures; others started companies. One left business to enter the ministry, while others left the ministry to go into business. It's all here.
Get Your Copy of The Pivot Profiles »
Liked this episode? Leave a review on iTunes and I'd love to give you a shoutout on the show! Make sure to leave your website so I can link back to it.
Connect with Mike:
Instagram – https://www.instagram.com/mikekimtv/
LinkedIn – https://www.linkedin.com/in/mikekimtv
Facebook – https://www.facebook.com/mikekimtv/
Twitter – https://twitter.com/mikekimtv
YouTube – https://www.youtube.com/c/MikeKim