In the late 80's and early 90's, scientists constructed a research facility in Arizona called Biosphere 2. Built to study the interaction between life systems in a controlled environment, Biosphere 2's closed ecological system was even used to explore the possibility for usage in outer space. It was outfitted with representative biomes to let nature run its course:  rainforest, ocean, wetlands, savannah, and desert were built in and several people lived inside for an extended time as part of the experiments.
A funny thing happened with the trees, though. Researchers found they grew quickly but fell over before they were of reproductive age. The Ents of Middle-Earth, these were not. Why were the Biosphere 2 trees such pushovers?
No wind!
Though scientists had prepped Biosphere 2 to reflect nature, wind was one part of nature they didn't (or couldn't) account for. One commentator stated, "the lack of wind created trees with much softer wood than that species would normally make in the wild. They grew more quickly than they did in the wild, but were harmed in the long run as a consequence." Wind is necessary for creating strong trees!
Maybe you're going through a windy and stormy season. Take heart—you're getting stronger. Your resolve is being hardened. Your endurance is being built. You will mature, not keel over like those softy trees. If you're going to survive in the wild, you've got to grow in the wild…even if it takes a long time.
A life without storms is like Biosphere 2:  it's a nice notion, but it's not reality. Sure, those living in a bubble world might seem happier and further along than you. But staying out of the bubble—confronting fears, working outside your comfort zone, living with resistance—all this shows you're made of the real stuff, the stuff they build ships and buildings and all sorts of other things with that change the world.
So what's Biosphere 1? The real thing:  Earth!
What are some of the storms that have made you stronger?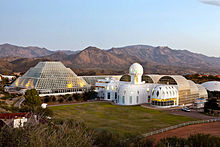 If you liked this post, you might like:
How $7 Toll Almost Ruined My Job
Commanding Attention In Your Public Speaking