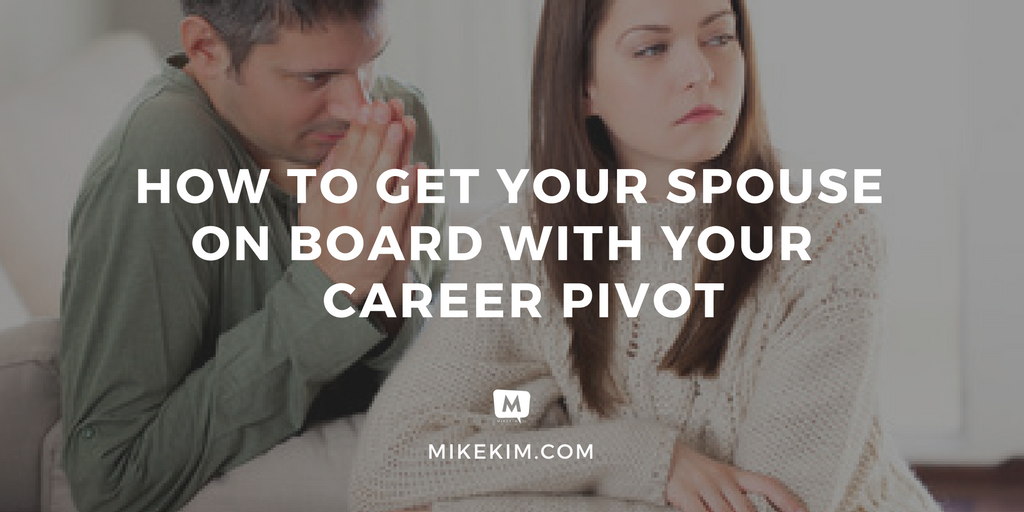 Despite being married for somewhere around a decade, I'm no "relationship expert"… but I do know first-hand how important it is to have a partner who is on board when you make a career pivot.
My own transition from a corporate marketing job led to a number of "intense spousal negotiations" (read:  regular ol' fights) … but when the dust finally cleared, we knew we had to come up with an actionable plan that both of us could get behind. The key word: actionable. 
Mapping out the logistics for a career pivot might seem daunting, but it's really the only way to provide structure to otherwise difficult conversations. Think of it like it's building your very first business plan. If you're launching a coaching or consulting business, remember that you're building a business. Good, growing, and healthy businesses have plans. It's a good habit to start early.
There's Just Something About that 3-Month (90-Day) Mark
When I started to make a bit of side money, my wife Iris and I started talking about how I could "make the leap" and leave my day job. One of the best pieces of advice I received was from my friend Ray Edwards, who told me that he and his wife Lynn made a deal that as soon as he matched his regular monthly income for three months, he would leave.
That sounded good to me! It then became very apparent that my wife and I had communication issues. When I said I'd quit after matching my income for 3 months, she heard that (either intentionally or unintentionally) as:
"We can start TALKING about you leaving your job AFTER you match your income for 3 months."
I then re-stated what I originally said, only to have her restate what she originally said. Then I realized she wasn't budging. I cussed a little under my breath, smiled through my teeth, and then (eventually) realized she was right. (I hate that.)
Enter The Proving Grounds
The reality is that I needed to prove myself in three areas:
Proof of financial stability, increasing both our income and savings

Proof of diligence: that I'd actually work at this over time

Proof of concept: that this 'business' (which she knew very little about) was actually a viable way to make a living

So, my first goal was to match my day job income for 3 months. The problem: that was a lot of money. I was fortunate enough to work a C-suite job at the time, and that easily took up 60 hours a week. Where was I going to find time in the margins to work another 60 hours a week? Impossible!
Focus on the First Ten Percent
Let's be honest. You won't recoup your day job income the first 3 months you decide to do it. So here's my honest suggestion: take your monthly income — say it's $5,000 — and focus on just earning 10% of that for 3 consecutive months.
That's $500 a month, for 3 straight months. Not that bad, right?
That might not seem like a lot, but for most people that bit of side money can make a big difference. That might be a month's worth of groceries, or a car payment. Doing so actually hits all three of the "proving grounds" I mentioned earlier: proof of finance, proof of diligence, and proof of concept.
Do this, and your career pivot now has "proof of life."
At this point, your spouse may start to believe you're actually onto something. More important: you will believe you can do this. Sustaining the effort to generate real, hard cashflow for three straight months is a significant accomplishment.
I know you're smart. You're learning. You're capable. Within that 3-month period, I'm positive you'll learn more about doubling your results, or charging higher fees, or leveraging the internet to create passive income streams.
Take A Page Out of Math Class: Show Your Work
I'm a reclusive worker. When I write or create, I tend to do it in solitude either in location, time, or both. When working my side-hustle, I was routinely working alone late into the night after my wife went to bed. Translation: she never saw my work.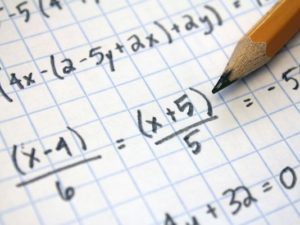 It's important for your spouse or significant other to see you working on your business, even if he or she doesn't understand what you're doing. It brings further proof of diligence.
It's like math class from junior high, before you were allowed to use calculators:  either show your work, or you'll get zero credit even if the answer is correct. At this point, it's all about the process of getting to the desired result.

Plant Your Pivot Foot, and Make the Turn
All this might sound constraining, but it's really important because you're going through a transformation. You're moving from employee to entrepreneur, from paycheck to provisional income, from predictability to unpredictability.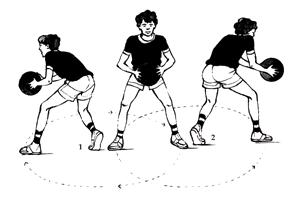 Basketball was a big part of my youth, and one of the first moves taught to a young player when catching a pass is the pivot. To change directions, you first plant your pivot foot and use that as the fulcrum to swing the rest of your body around.
It's the same in this kind of transition. You need one foot planted firmly in the ground. That's your day job right now. Your swing foot is the 1. 10% you're looking to earn for 3 months, 2. the hours you work in the margins to build a business, and 3. the intention with which you show your loved ones that you're doing the work.
Notice that all this takes place before you quit your day job! It's possible to convince your spouse or significant other that your pivot is a good, viable idea. Enter the proving grounds boldly, do the work, and you'll be well on your way.
What are some of the obstacles you've run into when discussing a pivot with your loved ones? I'd love to hear below.
Introducing The Pivot Profiles, a 'magazine' featuring 18 real-life pivot success stories. It's yours, absolutely free.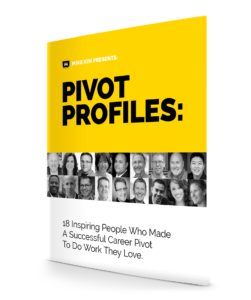 The singular goal of this magazine is to give you a wide array of people, personalities, and pivots for you to identify with. This is a powerhouse group. The folks inside hail from a variety of industries:  huge corporations, small business, radio, military, ministry, government, academia; the list goes on. We even have a former park ranger!
Some of them launched into solopreneur ventures; others started companies. One left business to enter the ministry, while others left the ministry to go into business. It's all here.