Today's episode is all about identifying your ideal client. This is one of the most vital components of building a business, and this episode will outline three ways you can do this.
Here's a bit of the copy I used as an example in today's episode:
A Poor Example
Our ideal customer uses our product to gain control of their finances. They want to take better control of their finances, so our service is useful for helping them gain control of their income and expenses.
A Better Example
Alan is a 38 year old freelance graphic designer from Mississippi. He spends about 4 hours a week reading blog posts and following links on Twitter, and that is where he discovered a link that pointed to Harpoon.
Alan makes between $60,000 and $80,000 a year as a designer, yet feels like he doesn't really have a good grasp on how much he is going to make in the next year, so he's not sure if he should hustle for more work, or tell his wife: "Yes, we can easily take that vacation this summer".
Alan spent 4 years working for a large agency in town, when he realized that he could do better on his own. He has been freelancing for 2 years now, and is interested in learning about honing his business skills as well as his design skills.
Alan is thinking that this could be the service that helps him to gain the needed control over his finances, giving him the confidence to embrace fatherhood without financial fears. His wife is excited that they can take that vacation without Alan worrying about how much it all costs and his lost work income.
Introducing The Pivot Profiles, a 'magazine' featuring 18 real-life pivot success stories. It's yours, absolutely free.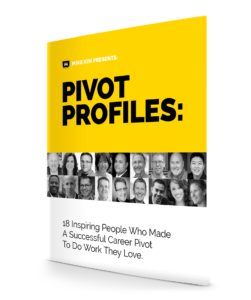 The singular goal of this magazine is to give you a wide array of people, personalities, and pivots for you to identify with. This is a powerhouse group. The folks inside hail from a variety of industries:  huge corporations, small business, radio, military, ministry, government, academia; the list goes on. We even have a former park ranger!
Some of them launched into solopreneur ventures; others started companies. One left business to enter the ministry, while others left the ministry to go into business. It's all here.
Get Your Copy of The Pivot Profiles »
Liked this episode? Leave a review on iTunes and I'd love to give you a shoutout on the show! Make sure to leave your website so I can link back to it.
Connect with Mike:
Instagram – https://www.instagram.com/mikekimtv/
LinkedIn – https://www.linkedin.com/in/mikekimtv
Facebook – https://www.facebook.com/mikekimtv/
Twitter – https://twitter.com/mikekimtv
YouTube – https://www.youtube.com/c/MikeKim