Disclaimer: I hope you take the online productivity test that I linked to at the end of this article. It can help you. (If you don't, that's alright.)
Now that we've gotten that marketing schtick out of the way, a few thoughts on tests:
Generally, I hate tests. When I was in school, tests were the worst because you were conditioned by your parents and Asian society at large that if you don't score in the top 95th percentile on the SAT and / or get a 4.0 GPA and go to an Ivy League…
YOU ARE AN IDIOT AND NOT WORTHY TO LIVE, LET ALONE REPRESENT THE VIRTUOUS KOREAN PEOPLE TO THE REST OF HUMANKIND.
My Dad would tell me, "Michael, if you don't study you gonna be a garbageman! Garbageman! You gonna be collecting all the $#!T instead of collecting the baseball cards!"
On a less aggressive yet just as passive-aggressive note, my Mom or friend's moms would say stuff like:
"Michael, did you hear that David H. from church has gotten ALL A'S ON HIS REPORT CARD SINCE PRE-K and he is going to Yale? Where are YOU going to college?"
I had nothing against David (who is a real person, by the way). He never did wrong by me, and we were pretty decent friends…
But you bet your tail that when we played tackle football on Black Friday every year (which we dubbed the "Turkey Bowl") I covered that kid like white-on-rice … and once speared him in the rib cage with an ESPN-worthy flying tackle when he tried to make a catch on me over the middle of the field.
If that was an officiated game I would have been penalized … for attempted murder.
David was at most 5'7″ and 120lbs; I was 6'2″ and 180lbs. I CRUSHED him. Yeah I heard David's going to Yale alright … in a stretcher.
(Since we were church friends, I played the Jesus-card and asked him for forgiveness. It worked.)
My freshman year in college, I took U.S. History with Professor Self-Important, who once gave us an exam that was supposedly going to cover 250 different items: people, dates, events, and so forth. We had to be able to write 5 pages by hand for each question in this god-forsaken blue book:
I arrived on exam day and was shocked that there were literally 5 questions on the exam. FIVE … OUT OF TWO-HUNDRED FIFTY things we were supposed to study.
How is that even fair?
Out of the 5 questions, I didn't know 3 of the terms. I studied 230 of the 250 items thinking the odds would ever be in my favor.
Nope. The best I could score was 40%, which is an F in the American academic system and an immediate "get your garbageman degree" by Korean academic standards.
So what did I do?
I appealed to my professor in the Blue Book, writing full answers to questions that weren't asked on the exam to prove that I actually studied and had a general grasp of the concepts. I made an impassioned plea to consider my extensive writing to be generally representative of my hard work…
Professor Self-Important simply wrote back in red ink: "You did not answer the questions. These are important concepts in American History. 40%. F."
(I definitely had an F in mind, alright. It was the first time I legitimately wondered how to hire a hitman or make something "look like an accident.")
Maybe you hate tests like I used to, but my relationship with tests is different now.
I take them when I want to in order to increase my self-awareness. I use them to function better at work and society at large. Certain tests actually give me life, instead of make me want to deliver rib-crushing tackles or hire hitmen. A few tests, and my results:
Briggs-Myers: INTJ
DISC: C/D
Enneagram: 3, all the way
Strengths Finder: Maximizer, Activator, Intellection
Game of Thrones: see below LOL
(Very cold payback. LOL.)
One test I've recently taken was given out last week by Michael Hyatt, on productivity. I scored a 72, and my results said:
YOUR PRODUCTIVITY PERSONALITY TYPE: "THE PRESSURIZED PERFORMER"
"What's this work-life balance thing that people keep talking about? Work tends to permeate your whole life, and you hold yourself responsible for making sure everything goes right. Because of this, you feel like you're "always on."
Even when you try to relax, it's difficult to disconnect. Pressure from the outside and your own internal drive to succeed runs the show right now."
That assessment was pretty spot-on.
Now, to be upfront — you will need to submit your email to see the results of the test. But I found it helpful and I opted-in to see the full breakdown.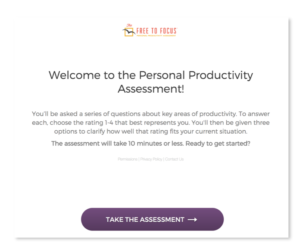 Since he's promoting his Free to Focus program, you'll get some emails as a follow up, but you can always unsubscribe.
Click here to take Michael Hyatt's productivity test »
If you take the test and you're on my email list, I'll send some of my own productivity tricks later this week … as well as some swipe copy I use to write faster emails and marketing messages.
If you've taken any of the tests I've mentioned above and want to talk it through, comment below and let me know what you've scored on the productivity test, DISC, Briggs, or so forth.
I love this stuff.
P.S. – David went into law after a few years in finance. He's now a professor and I'd link to his bio but that would be kind of creepy, plus he might sue me because he knows more about law than I do.
He turned out okay and so did I, Korean mothers be damned. He would still probably score higher on the productivity test than I do, though. Or maybe not. What about you?