Some things are so unexpected that no one is prepared for them. Here are a few predictions for the personal brand marketing space in hopes that we can all set a trajectory for growth:
1. A Clearer Distinction Between Education And Implementation
People want more implementation included when investing their hard earned money. They want results, not just education. We're going to have to do more to facilitate that, especially if serving a starter market.
Personally, I am hosting more workshops throughout the calendar year to supplement (or even replace) my online courses.
If you're in the business of educating people, you'll need to offer some sort of implementation in the coming months and years –– otherwise someone else will.
2. Show & Tell With Microcontent
Microcontent is a smaller piece of content (usually 0:30 to 1-minute clips) cut up and repurposed from bigger pieces of content. The key here is to show and tell.
It's not enough to simply tell people you are a coach or speaker –– you have to show them. My speaking invitations increased dramatically after posting microcontent. Nick Cavuoto helped me do this:
View this post on Instagram
You may say, "I don't have video or speak at conferences." Repurpose your podcast and post it to YouTube. Cut up video from your Facebook Live videos, transcribe them, and turn them into smaller clips. A few apps I use to do this:
3. Marketing Made Human
Automation and tools are great, but we'll need to do more things that do NOT scale: personalized phone calls, texts, emails, and more. I shoot personalized videos for new members with Bonjoro.
This is all a fight to stay human. Nowadays, Gary Vaynerchuk wears a shirt with a phone number on it and invites people to text him. Other people like Mel Robbins are also using this strategy:
We know these folks aren't answering every text they get, but the point is that they are personalizing their marketing efforts. Big brands are fighting to get smaller.
However, it's important to be genuine. I rarely use form fields with first names in my emails. Subscribers know my emails are going to many people (no need to insult their intelligence), so I work hard to write engaging and more personal copy rather than being lazy.
One place you should pay attention to right now is the comments section on social media.
Social media expert Lauren Davis says: "Don't post and ghost." This is the least you can do to make your marketing more human. When someone leaves a comment, respond.
4. Experience Marketing
Have you noticed the dramatic increase in the number of live, in-person masterminds at exotic locations? People want experiences.
Every year, I attend Puerto Rico Masterminds hosted by my friend Mark Wade. I love Mark and the people who attend, but let's be honest –– Puerto Rico is a big part of the appeal.
We mastermind, quite literally, on the beach. He takes attendees snorkeling, on walking food tours, and one year we sailed around the island on a pirate ship. Sounds way better than holding a mastermind at a Holiday Inn in New Jersey.
If you live in a cool city or country, why not host events there? Technology (at least at this point) cannot completely replicate the human experience. Keep hosting those events!
5. Marketing Systems, Not Sprinkles
I have two young nephews. Give them a cupcake and all they care about is the sweet, sticky stuff on top. A lot of times they just throw away the rest.
Most personal brand businesses are no different. They focus on the frosting and sprinkles –– the six-figure launches, the influencer lifestyle, the work-by-the-beach pics. You can't sustain yourself on frosting, sprinkles, or even cupcakes for that matter. Just like any human needs real nutrition, any healthy business needs systems.
The book Rocket Fuel by Bino Wickman and Mark C. Winters has been around for a few years and is starting to get popular among personal brand business owners.
The premise is that there are two main types of entrepreneurial people necessary to grow a company: the visionary and the integrator. The visionary has ideas and dreams. The integrator turns those visions into reality.
I've started using the word "company" more often to help get me in this mindset that there are two sides to my business — and that I can't live off sprinkles and frosting.
Recently I spent two full days working on systems and SOPs with Chelsea Brinkley, who has moved into the integrator role for my business. I love Chelsea, but hate SOPS. Those days were not fun –– but they were absolute necessary.
I think we'll see a greater focus on real business growth, especially as this space continues to mature every year.
How many of these do you think will apply to your business in 2020?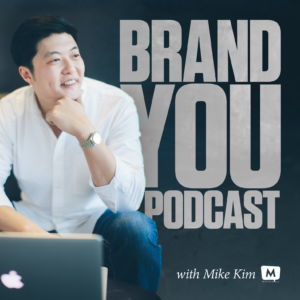 Check Out My Podcast
Ranked the #1 podcast on iTunes for personal branding, each episode helps you build your personal brand business.