You and I find ourselves in quite an odd predicament, don't we?
While the masses around us seem content with staying average, here we are investing time, money, and energy in books, courses, masterminds, conferences, and more.
Yet it's still very possible for us to feel as if we never invested at all, because the results aren't there.
While resources are good, it's easy to lose sight of being strategic in our choice of investments.
If we're not careful, we fall prone to that vicious, unrelenting disease called Shiny Object Syndrome.
It's far too easy to end up on this sick cycle carousel of buying course after course, coach after coach, and certification after certification with no real results.
I'm sick of seeing people fall into to this diabolical cycle, and at the risk of offending every other guru out there I'm going to tell it like it is.
How do we know when to invest in a particular resource?
1. When To Invest In A Course:
Simply put, a course should teach you how to do something, preferably a skill or process that (please hear me) either saves you money or brings in money … that you plan to use within the first 30 days of purchase.
I can just hear you now…
"Oh Mike, stop being such a dictator about this! Don't you know Ms. Guru won't be opening this course until next year? What if I miss the opportunity?"
Then join it next year, friend.
How many courses have you invested in over the past year? How many of those courses have you implemented? (Ouch, I know. But wounds from a friend can be trusted.)
How much money have you spent on these courses? $1,000? $1997? $297 here, $397 there, $597 for the early rate because it was a bargain?
There's a difference between spending and investing.
If you have not implemented what you've learned in a course, you have not invested … you have spent. To be specific, you have mis-spent precious capital that you should have used on either a coach or contractor.
If this sounds familiar, you don't need another course. You need a coach that will hold your feet to the fire to take action … or you need a contractor that will actually perform those actions for you. More on that below.
For now, let's get back to when you should buy a course. Here are just a few I've taken over the years:
AWAI Copywriting Course
"Best Year Ever" by Michael Hyatt
"Profit Lab" by Amy Porterfield
Why AWAI? I wanted to improve my copywriting skills. This program cost just $300. I was already getting clients, but this program would help me write better, faster — which also meant more clients.
Why Best Year Ever? I wanted to improve my life-planning and goal-setting. I also wanted to make income from it by streamlining my life and teaching my clients to do the same. The ROI on this is intangible but it was worth more than the couple hundred bucks invested to get my life in order.
Why Profit Lab? I wanted to learn how to run basic Facebook ads to grow my list and sell passive income products. This course cost $1,000. I took a few weeks to go through the content, and about two months after I made $1,300 within the first two weeks of implementation.
The grand total for my investment: $1,800. My point is not that you make the money back in the first 30 days. That's like a college student paying tuition and saying the want to make money off what they learned within the first month of the semester.
Learning is a long game, but it's a no-game if you never implement what you learn. If you can commit to going through the course in the first 30 days of purchase, do it.
This is a simple Profit-Loss statement issue. If your P/L sheet is upside-down, so is your spending. If you choose to ignore that simple statement, you are now guilty of what many larger companies and corporations do: throw money at the problem.
It is very possible to be a personal brand that commits this cardinal sin of business spending. The only difference is companies call it "market research" whereas we call it "personal development."
"But Mike, coaches and consultants are expensive!"
Of course they are, but you can get a lot of good help for the same money you spent on courses that you've lost the login for a hundred times because you never really use it.
2. When To Invest In A Coach:
I approach hiring a coach in two ways. First, I hire a coach if I need short-term accountability for a specific purpose, like a transition in my professional occupation or a big life event. We see this all the time: people hire relationship coaches before getting married, or hire business coaches before starting or scaling their organization.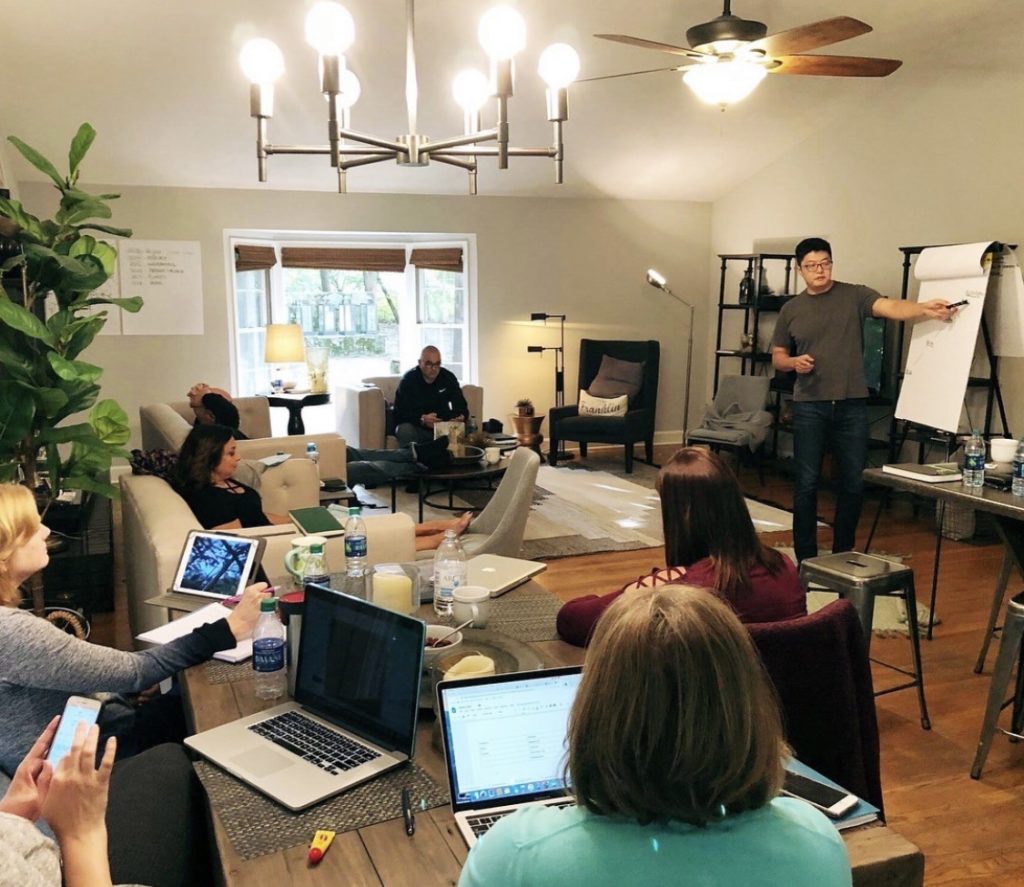 A coach, while expensive, supports you by easing you through the turn. She helps you see the next curve, and works with you to help you gain perspective on when to power through a turn or when to take it gingerly, just like you would with a car on a curvy road.
Second, I hire coaches for long-term, sustained accountability. Whereas the first type of coach is a specialist, this type of coaching is more like a general practitioner.
I'd rather spend $1,000 on courses and $10,000 on coaching than $10,000 on courses on $1,000 on a coach. The issue isn't learning, the issue is taking action. If your business is struggling, you may have misdiagnosed the problem and sought the wrong solution. In times of transition, you need a coach — not a course.
3. When To Invest In A Contractor:
I have professional coaching credentials and use coaching techniques, but at the heart of my business I am a consultant and contractor. This means I do one of two things:
I tell you what to do (consultant).
I do it for you (contractor).
When people contract me, they either want my advice or my ability. Those are two very different things and command very different fees. You should be aware of this when you are ready to invest in a contractor (or consultant) of any kind.
When it comes to advice, I tell my clients what to do. I am their strategist. I am another set of eyes and ears. I am right.
"I am right" may sound arrogant, but this is the mentality I must have to give my clients the confidence to break through quitting points and implement change. They need to borrow my belief.
When it comes to ability, I do the work for them. I write their copy. I build their website. I ghostwrite their book. I create their marketing calendar, or build their sales funnel, or price their services. I shape their verbal and visual identity.
This frees them to do what they do: create content, build their network, or go para-sailing in the Caribbean. They have bought my time so they can buy back some of theirs.
I have hired other consultants and contractors numerous times, especially when time is short and the learning curve is big.
When it was time for me to convert a resource of mine to sell on Amazon, I immediately hired a consultant, bought an additional hour of her time for advice on pricing and selling, and paid her to do the work. She did in one week what would have taken me months.
What About A Course + Coaching?
This is one of my favorite things to offer because I teach a good amount of marketing content that people often struggle to implement. Most people don't know this, but I had quite a bit of classroom teaching experience in my 20's with high school kids, preparing them for tests like the SAT and ACT.
I know the importance of both teaching content and helping people practice and implement what they've learned.
Let's be real: a bunch of videos aren't going to change someone's life. People often need someone to walk them through a curriculum. The train wreck that was distance learning during the pandemic is evidence that PRE-RECORDED VIDEOS DO NOT CHANGE LIVES.
How To Apply This To Your Business:
Results happen because there is alignment between the type of service offered relative to the season the client is in.
If a client needs consulting work, I don't tell them to buy a course –– I tell them to contract me. If someone needs a long-term coach, I do not agree to sell them a course with a bunch of videos. They don't need that, they need someone to actually talk to and walk with. This is ethical, strategic, and actually helpful to the client.
Use these reasons to justify why someone should (or shouldn't) invest in one of your offerings. Refunds will decrease, your value will increase, and your business will gain a legitimate reputation.
Get Your Copy of You Are the Brand Today!
My book You Are the Brand is available NOW. Grab your copy on Amazon or wherever books are sold.
If you'd like a free edition of the audiobook version, grab it for a limited time here: mikekim.com/yatbaudio
Connect with Me on Social: