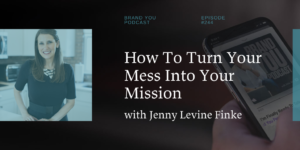 Jenny Levine Finke is the founder of Good For You Gluten-Free. As a certified integrative nutrition coach, her blog helps people with celiac disease and gluten sensitivities manage their diet and restore their health. She also founded the Denver Bloggers Club where she hosts monthly workshops and an annual conference. Jenny is the real deal when it comes to growing an audience organically. Today, she shares that expertise with us. In this episode, you'll hear:
The backstory of how Jenny built her brand
What it's like being a blogger today
How to grow a tribe through organic traffic
What content creators can do to optimize their content
Why you should see other bloggers not as competition but as collaborators
How to use Instagram to grow your brand
Resources:
Connect with Mike:
Instagram – https://www.instagram.com/mikekimtv/
LinkedIn – https://www.linkedin.com/in/mikekimtv
Facebook – https://www.facebook.com/mikekimtv/
Twitter – https://twitter.com/mikekimtv
YouTube – https://www.youtube.com/c/MikeKim
Subscribe to the Brand You Podcast Here:
Did you know? The Brand You Podcast was recently listed as an "all-time bestseller" in Apple Podcasts for marketing. Subscribe free to get new episodes every Wednesday:
EPISODE CREDITS:
If you like this podcast and are thinking of creating your own, consider talking to my producer, Danny Ozment.
He helps thought leaders, influencers, executives, HR professionals, recruiters, lawyers, realtors, bloggers, coaches, and authors create, launch, and produce podcasts that grow their business and impact the world. Find out more at https://emeraldcitypro.com