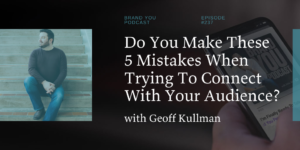 Geoff Kullman is an amazing copywriter who helps his clients connect to their audience. He is one of the few writers I completely trust and have even worked with on my own client projects.
In this episode, we talk about some of the mistakes entrepreneurs make in connecting with their audience. Being clear isn't enough. At some point, each of us has to learn to tap into emotion to genuinely connect with people. Some of the things we discuss that keep entrepreneurs from doing so are:
Talking about themselves way too much without making connection points to their customers
Not identifying their client's hopes, values, dream, and goals
Being afraid to ask for a sale, even if they truly believe in their offer
Not knowing their purpose
Failing to build credibility until a crisis occurs
I've matured in this space over time and have realized the importance of consistently honing in my marketing skills. If you have a personal brand business but struggle to put words to your values and connect with your audience, listen in to all Geoff has to share.
Resources:
Connect with Mike:
Instagram – https://www.instagram.com/mikekimtv/
LinkedIn – https://www.linkedin.com/in/mikekimtv
Facebook – https://www.facebook.com/mikekimtv/
Twitter – https://twitter.com/mikekimtv
YouTube – https://www.youtube.com/c/MikeKim
Subscribe to the Brand You Podcast Here:
Did you know? The Brand You Podcast was recently listed as an "all-time bestseller" in Apple Podcasts for marketing. Subscribe free to get new episodes every Wednesday:
EPISODE CREDITS:
If you like this podcast and are thinking of creating your own, consider talking to my producer, Danny Ozment.
He helps thought leaders, influencers, executives, HR professionals, recruiters, lawyers, realtors, bloggers, coaches, and authors create, launch, and produce podcasts that grow their business and impact the world. Find out more at https://emeraldcitypro.com