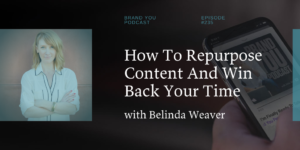 There will always be too much to do and not enough time to do it. That is why we need people like Belinda Weaver. She is not only founder of the site Copywrite Matters and host of the Hot Copy Podcast, but an expert at time management, too. We met at The Copywriter's Club IRL conference and began a conversation on how she built a business while raising a family, forcing her to learn how to be the boss of her time. In this episode, we talk about:
Belinda's leap to full-time online work
Her transition from client work to a strategist role
How to repurpose content to free up time
The surprising success of her daily email
The Pomodoro Technique
Making the brain space to delight clients
I am definitely going to be putting Belinda's techniques into practice and getting my time management under control. Tune in to win back your time, too.
Resources:
Connect with Mike:
Instagram – https://www.instagram.com/mikekimtv/
LinkedIn – https://www.linkedin.com/in/mikekimtv
Facebook – https://www.facebook.com/mikekimtv/
Twitter – https://twitter.com/mikekimtv
YouTube – https://www.youtube.com/c/MikeKim
Subscribe to the Brand You Podcast Here:
Did you know? The Brand You Podcast was recently listed as an "all-time bestseller" in Apple Podcasts for marketing. Subscribe free to get new episodes every Wednesday:
EPISODE CREDITS:
If you like this podcast and are thinking of creating your own, consider talking to my producer, Danny Ozment.
He helps thought leaders, influencers, executives, HR professionals, recruiters, lawyers, realtors, bloggers, coaches, and authors create, launch, and produce podcasts that grow their business and impact the world. Find out more at https://emeraldcitypro.com