On this episode, I peel back the curtain to share the opening keynote from my recent conference Influence & Impact.
Part of the reason I'm doing this is because, well, I'm really sick and can barely talk right now! But I still wanted to add value to you this week and publish a fresh podcast episode.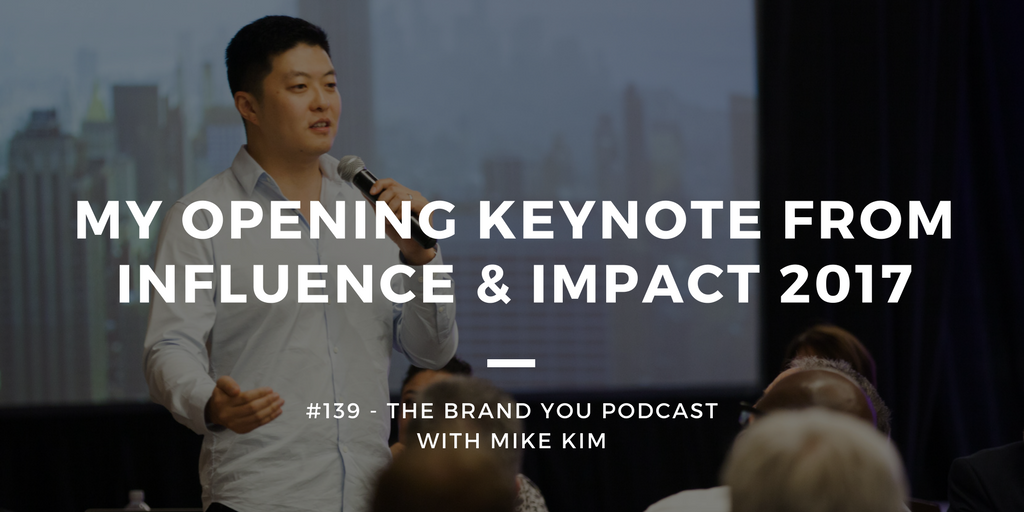 Tune in and you'll hear the heart behind why I hosted this event, and some key points that will help you gain clarity in your own personal brand building journey. I ask several questions in this session, and I encourage you to ponder them yourself.
What pisses you off?
What breaks your heart?
What is the big, interesting problem you're trying to solve?
When we get clarity on this things, we step on the path towards greater influence and greater impact.
Connect with Mike:
Instagram – https://www.instagram.com/mikekimtv/
LinkedIn – https://www.linkedin.com/in/mikekimtv
Facebook – https://www.facebook.com/mikekimtv/
Twitter – https://twitter.com/mikekimtv
YouTube – https://www.youtube.com/c/MikeKim
Subscribe to the Brand You Podcast Here:
Did you know? The Brand You Podcast was recently listed as an "all-time bestseller" in Apple Podcasts for marketing. Subscribe free to get new episodes every Wednesday:
---
EPISODE CREDITS:
If you like this podcast and are thinking of creating your own, consider talking to my producer, Danny Ozment.
He helps thought leaders, influencers, executives, HR professionals, recruiters, lawyers, realtors, bloggers, and authors create, launch, and produce podcasts that grow their business and impact the world.
Find out more at https://emeraldcitypro.com