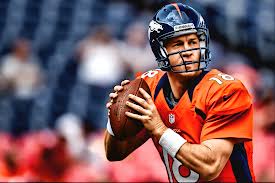 Part of our recent vacation was spent at the famous Pebble Beach Golf Links. After golf, Iris, her parents, and I went to dinner at one of the resort restaurants. There was a really loud table right behind us, so I took a glance to see what was going on.
Out of the corner of my eye, I saw NFL star Peyton Manning sitting just a few feet behind me. Whoa.
I think I handled it pretty well. My wife freaked out.
Iris:  "WHAT?!? PEYTON MANNING??? OMG can we take a PICTURE???"
Me:  "No, honey. Famous people come here all the time. Don't bother him."
Iris:  "Can you ask him to take a picture with me???"
Me: "This is Pebble Freaking Beach. Let's try not to be typical Asian tourists."
Iris:  "Whatever. I'll ask him myself. I'm a girl. He can't say no."
Manhood test:
Do I man up and approach a loud table of guys and ask a billionaire quarterback to take a picture?
Wuss out and let my wife go alone while I pretend not to know her?
I chose option #1. I should have chose #2, because this transpired:
Me:  "Mr. Manning?"
Peyton:  (turns around) "Yeah!"
Me:  "My wife is a really big fan and was wondering if she could get a picture."
Peyton:  "Ah, I'd love to but it's team policy not to here because it's a bar. You guys understand, right?"
Me:  "Oh sure, we understand. No problem."
Peyton:  "Where you guys from?"
Me:  "New Jersey."
Peyton:  "Ok cool. You guys Giants fans?" (his brother Eli is a NY Giant)
[CRAZED STAR-STRUCK WIFE JUMPS IN OUT OF NOWHERE]
Iris:  "I'm a HUGE fan of yours but HE (points to me) is an EAGLES FAN. Ugh! I married into it and he said I have to like them! I'm sorry!"
What the freak?
There was more to our short talk with Peyton Manning, but that's pretty much what I remember. It's not everyday that your wife throws you under the bus in front of a famous pro athlete. (The effect that world-famous billionaire quarterbacks can have on women can't be overstated.)
As a sports fan, I've long admired Peyton Manning–his reputation precedes him both as a player and person. The more I reflect on it, the more I think about
how friendly he was
how he spoke with us way longer than he had to
how engaged he was with us in conversation
It reminded me of this time I greeted a well-known musician after a concert. I went to the stage to say hi, and instead of speaking to me from there, he walked all the way around to come offstage just to talk to me eye-to-eye.
That happened over 10 years ago but I still remember that kind gesture. And I'll remember how Peyton Manning turned fully around, made eye contact, shook our hands, and made us feel like he was genuinely glad to meet us.
Little gestures in our communication can speak way louder than our words. Keep that in mind as you interact with people. For better or worse, someone might remember you for it.