R
ecently I spoke with Dr. Carrie Rose, founder of
of-course.us
, about how to increase student engagement and completion rates in online courses.
This is hard to say, but only a small percentage of online learning products sold online would meet the minimum educational standards or best teaching practices.
That's why, as an expert with a doctorate in educational leadership, Carrie is my go-to when it comes to improving learning outcomes.
Listen To My Podcast With Carrie Rose Here:
Fun fact: in my 20's I taught in an after-school academy for junior high and high school students helping them improve their vocabulary, critical reading, and test-taking skills for college entrance exams. My old company still uses a photo of me on their website!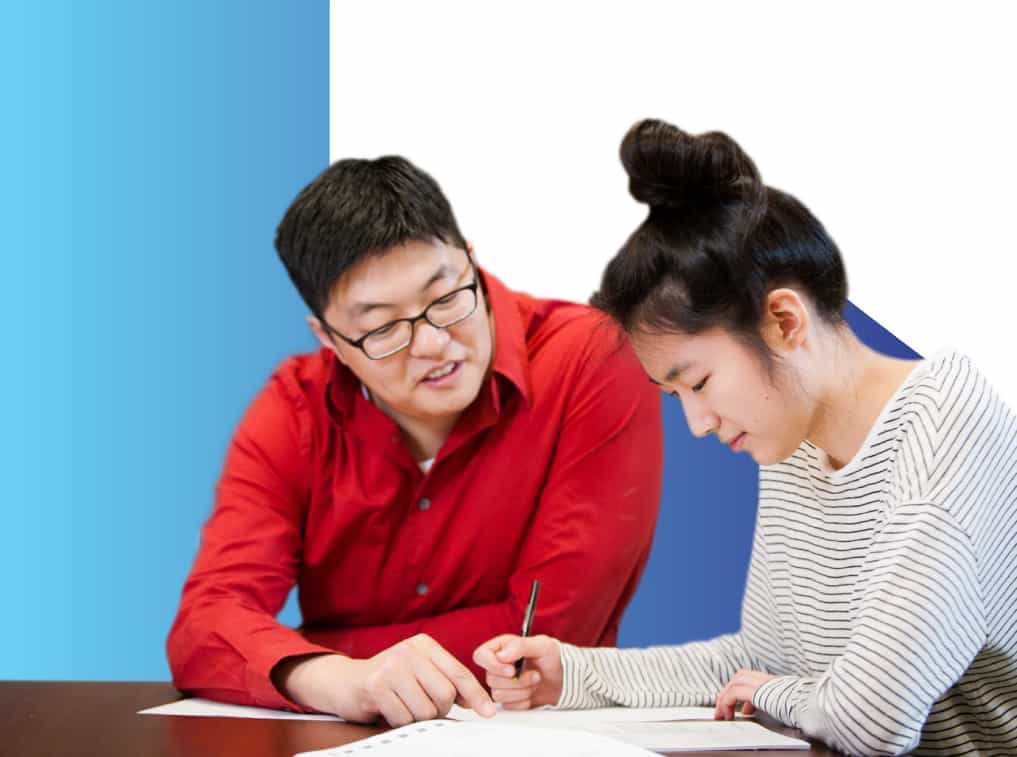 Whether it was at that job or now as a marketing educator, I want my students to succeed. But it's hard to transform lives when, according to Carrie, only 4% of the people who purchase an online course actually complete it.
Part of the reason is because of the medium. When I was teaching students face-to-face in a classroom, I could command their attention and time. There was accountability. In an online course, students are watching sessions at their leisure –– if at all. There must be a solution, and that's why my conversation with Carrie was so valuable. Here are the three main takeaways: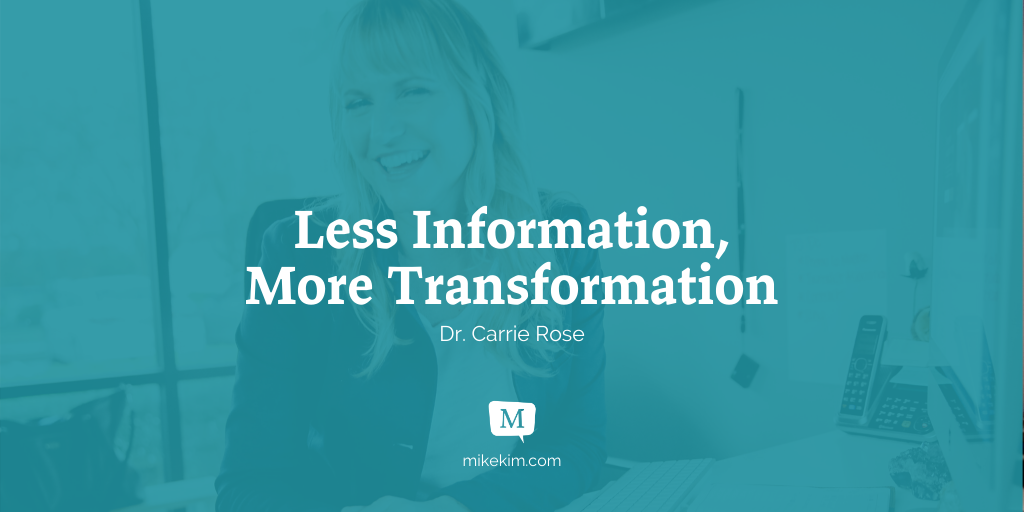 1. Less Information, More Transformation
As I noted, very few online course creators use actual education theory to create impact. Even well-intentioned course creators fail to deliver real outcomes because they just aren't aware of how people actually learn. Being a subject expert is not always the same as being an expert teacher of that subject.
To create an online course that impacts your students and takes them from "Sucksville" to "Awesometown", you can't rely on surface-level knowledge and "how to" instructions. Instead, you need to create course material that goes deeper and expands learning further by utilizing the principle of cognitive dissonance.
Cognitive dissonance means introducing ideas that stretch students beyond their current beliefs and knowledge, or cause them to fuse multiple viewpoints together.
Our job isn't to simply fill modules with step-by-step instructions or information to recall later. That approach works for elementary school, but it never creates transformational learning because adults don't learn this way. Carrie says it this way when teaching adults:
Your approach becomes less about the "how" and more about the "why."
That doesn't mean you never teach how-to's –– but you can't leave your students there. Instead, use the how-to's as a way to lead your students into the why's.
For instance, if your course teaches Facebook™ ads, you can begin by teaching students the basics of the Ads Manager. But the bulk of the course should teach them critical thinking skills on targeting strategies, conversion techniques, or copywriting tactics.
Implementation Idea:
The lower-level, step-by-step content makes great lead magnets and is a proven way to grow your email list. It also leaves the learner wanting to learn more about the deeper questions of WHY.
2. Leverage Focus Questions
In our conversation, Carrie talked about the importance of focus questions — seeding the idea of what the student will learn in each lesson or module before they begin. In academic education, some simple focus questions include:
Where does our water come from?
What effect does water have on seeds?
How can we get a light bulb to burn brighter?
After talking with Carrie, I decided to reframe all of my courses and modules with focus questions for each particular section. For example:
What is the most important copy on a sales page?
What effect does a responsive email list have on a launch?
How can we increase open rates on our emails?
Then I can create a module that fleshes out the concept. This is a simple way to leverage the Reticular Activating System in the brain to keep people connected to the "why" behind the course. Carrie said,
"If you close your eyes and you think: "Red car, red car, red car…" and all of a sudden you see a bunch of red cars everywhere. It's because your eyeballs are now trained to go look for the red car."
Granted, focus questions can sound elementary to an adult student, so Carrie recommends we use phrases rooted in focus questions. By stating, "By the end of this lesson, you'll understand WHY…" then you've narrowed the focus for your student's brain to search for in the video. Here are some examples:
View this post on Instagram
By the end of this module, you'll understand why the headline on your website is the most important ingredient to increasing sales.
By the end of this video, you'll know how to use the ads manager to target the perfect audience.
By the end of this course, you'll understand why your prospects want you to make them an offer they can't refuse.
By making this simple change in your approach to online learning, you will drastically improve the results your students experience through your course and increase your completion rates as well.
[click_to_tweet tweet=""To boost completion rates of your online courses, use these focus questions." – Dr. Carrie Rose" quote=""To boost completion rates of your online courses, use these focus questions."" theme="style7″]
Implementation Idea:
If you've already created your course, an easy way to improve an existing product is to add a 15-second clip at the beginning of each module that includes your focus questions.
3. Copy / Course Alignment
I mentioned earlier that many online courses are profitable because of their marketing and not necessary due to the quality of their product. In many cases, they over-promise and under-deliver, causing only 4% of people to complete the course.
Often, people purchase the course because of the promises on the Sales Page, only to feel disappointed after their purchase. It may not have been the intention of the course creator, but in the mind of the student, it feels like they were sold a bill of goods. Now you're dealing with a ton of refund requests and lower completion rates.
Carrie revealed a few important points:
The words on your Sales Page need to reflect the reality of your product — it seems like a no-brainer but this mistake is made all the time!
Don't put all your eggs in one basket — rather than dumping all your knowledge into one course, you can create multiple hyper-specific courses instead.
Use the success the student had in one course to upsell a second course (and beyond)
If you want more from Carrie, check out this YouTube video:
Obviously, aligning your marketing with your actual product is a key principle with any program. Don't misrepresent your product or you'll quickly find yourself surrounded by unhappy customers. Instead, set proper expectations at the outset and you will create successful online courses that have a higher completion percentage and help students achieve better outcomes.
Implementation Idea:
Before your next launch, have a few trusted colleagues review the copy on your Sales Page to ensure you're not setting false expectations for your course.
Let's Recap:
There are a ton of additional takeaways from my conversation with Carrie (listen to the podcast interview here) but for now, let's summarize:
Don't create a "how to" course but use cognitive dissonance to stretch the minds of your students.
Use focus questions to keep their minds looking for the "red car, red car, red car".
Triple check to ensure your sales copy matches the product experience.
To connect with Dr. Carrie Rose:
It's time to create online courses that actually help our students learn instead of merely increasing our profits.
---
Free Live Training: How to Create, Market, and Sell Your Online Course
On Monday, October 3, 2022 I am hosting a live training with Dr. Carrie Rose on how to create, market, and sell your online course, with a special emphasis on the concepts outlined in this post.
If creating and selling an online course is on your radar for the end of this year or for 2023, I encourage you to join us!
Monday, October 3rd
3pm ET / 2pm CT / 1pm MT / 12pm PT