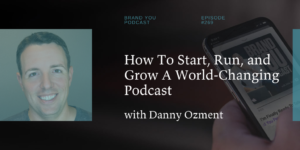 Danny Ozment is the best of the best in the podcast production industry. When he started producing this show years ago, the quality went through the roof. The podcast just grew like crazy.
Throughout our time working together, Danny has taught me that podcasting is one of the strongest marketing channels you can create for your personal brand business. The growth of the industry is steady and consistent. If you have a personal brand, you need a podcast in your marketing arsenal and there's no one better to teach you how than Danny.
In this episode, we talk about:
What he sees happening in the podcast space in the next 6-12 months
Why we can go so much deeper with our listeners on a podcast
How long you should make your episodes
The stats on podcast listening
How to repurpose your podcast content
What to do when you're interviewed on another podcast
How to monetize your podcast
Resources:
Connect with Mike:
Instagram – https://www.instagram.com/mikekimtv/
LinkedIn – https://www.linkedin.com/in/mikekimtv
Facebook – https://www.facebook.com/mikekimtv/
Twitter – https://twitter.com/mikekimtv
YouTube – https://www.youtube.com/MikeKim
Subscribe to the Brand You Podcast Here:
Did you know? The Brand You Podcast was recently listed as an "all-time bestseller" in Apple Podcasts for marketing. Subscribe free to get new episodes every Wednesday:
EPISODE CREDITS:
If you like this podcast and are thinking of creating your own, consider talking to my producer, Danny Ozment.
He helps thought leaders, influencers, executives, HR professionals, recruiters, lawyers, realtors, bloggers, coaches, and authors create, launch, and produce podcasts that grow their business and impact the world. Find out more at https://emeraldcitypro.com