One of the greatest challenges missionaries face isn't the mission field …
It's raising support.
Granted, raising support for missions is not easy. Moreover, most missionaries are under-equipped by their churches or sending agencies to deal with the challenges of dealing with donors in today's online world.
Raising support is marketing and selling.
Yes, I realize that the words "marketing" and "selling" can feel yucky. But in reality, all of us are engaged in some form of persuasion. Human psychology hasn't changed much when it comes to sales, and that's why advertising techniques used a hundred years ago still work today.
It's important to understand human psychology in this regard. Donors don't give primarily because they care. Deep down, they give because it makes them feel good. Understanding this will help you be more effective in fundraising. Here are five ways to apply this:
1. Keep an online home base.
Unless you're doing work that can't be publicized, you should keep a personal blog. A private Facebook group is a good way to keep in touch with existing donors, but it's not a great home base for your communication because Mark Zuckerberg and team can change the rules at any time. You own your blog. Use it to centralize all you do.
An up-to-date blog allows people to have direct interaction with you 24/7. Someone can get to know, like, and trust you by reading your blog … while you're sleeping. It's an around-the-clock fundraising pitch. This is the most foundational component of fundraising in an online world.
Need help? Visit my WordPress setup video tutorial and launch a blog in under 7 minutes.
2. Make it easy to give, and with recurring payments if possible.
Setup an easy way for people to donate automatically online. This button should be prominent on your site. Consider the color yellow, and put text in the button like "rescue orphans" or "I'm in" or "give now." (Studies have shown that yellow buttons convert best. No joke.)
If recurring online donations can't be facilitated, clearly explain how donors can give. Make it as easy as possible. This is your responsibility.
There are many times I've wanted to give to missionaries and didn't because I simply didn't know how. I'd hear a great pitch, see a moving video, and not have the faintest clue as to how to give. I could name three missionaries I'd probably be giving to right now. I don't even know where to start because — you guessed it — they don't have a blog.
How much support are you leaving on the table because you didn't make it easy for people to give?
3. Increment donation amounts.
Maybe you worry that asking for certain amounts will prevent a wealthy donor from giving you a huge gift. If a person is willing to give that much, he or she is not going to let incremented amounts get in the way.
People like to be told what to do which is why marketing is full of calls-to-action. In my experience, tiers of $25, $50, and $100 work best. Amounts above that are for anchor donors, and you'll often leverage these types of gifts in person anyways.
Telling me you need $3,000 a month doesn't help. That number is too high and generic for a donor to take action. I'll feel like a cheapskate if I give just $10, but excessive if I give you $1,000. Then I probably won't do anything.
Giving $25 or $50 and knowing this is what you asked for makes me feel good. It's not so low that I feel cheap; it's not so much that I'd have donor's remorse. Remember, it's the psychology of giving. I have a million other things on my mind. Make the increments for me.
4. Give people the gift of going second.
It's rare to find anyone that ever wants to go first. People are even scared to leave the first comment on a blog post! Show pictures of others giving. Share testimonials of others that have given to your cause.
Here's a great tactic:  be the first giver. This is incredibly powerful.
True story:  One of my clients was raising money for a relief fund. His ministry was the one receiving the donations. Know what I had him do (and say)? "I have already personally donated to this cause. Would you join me?"
Think about that. He told everyone that he gave … to his own fund … first. What was he really doing? Giving people the gift of going second. This created an immediate personal connection with his donors. It worked.
5. Cultivate relationship.
People are still the ones giving you support, not bank accounts. It will bother people when you tell them you need $3,000 a month and only hear from you when you need it.
Leverage social media. Reach out to people. Like their Facebook updates. Email. Blog. It doesn't take much time, and it will keep you from being out-of-sight, out-of-mind. I'd like to help, so keep reading:
FREE GUIDE: The Missionary Support-Raising Roadmap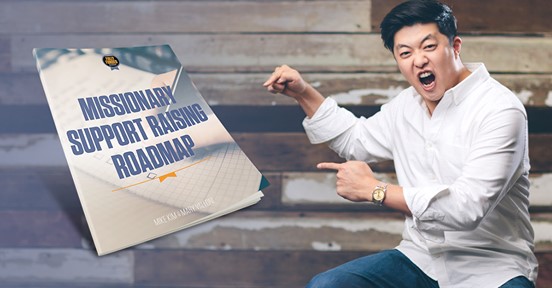 Raising support for your missions work can be overwhelming…
How can you reach your support raising goals and stay fully funded, on the field, without having to rely on trips to your home country, driving from one corner to the other, to rally support?
How do you identify potential long-term supporters?
How should you approach them?
What's the best approach for meeting face-to-face to start the relationship with a church?
How can I motivate current supporters to help me find more support?
What's a good way to stay in touch on social media without the "Here he goes with the money thing again?"
How do I mention support to small groups to give or partner?
How should I be asking? How often is too often?
And you have a lot to consider! How do I know? Because I've worked with hundreds of missionaries and ministries…
Same with my friend Mary Valloni (she's worked with organizations like Chi Alpha Campus Ministries, the American Cancer Society, and Special Olympics). We deeply understand where you're coming from, and we'd like to help you for free. Why? There are two reasons:
The first: we're simply grateful for all the missionaries we've helped over the years raise more support and get fully funded. In fact, we've even helped entire families get 100% fully funded to launch ministries in places like South Africa, Papua New Guinea, and Uganda…
Second, we know that by helping you get the answers to the questions above, you may want help on a deeper level…
If that's the case, cool. If not, no worries! Either way, we've put together this free guide as a little gesture of goodwill to help. It's called:
The Missionary Support Raising Roadmap: Even If You've Never Raised Support or Been Fully Funded Before!
In this free guide, we'll be answering all of those nagging questions you're probably asking yourself right now. You're also going to get actionable items that you can use to grow and build a support base with reliability and predictability.
Here's some of what you'll learn:
How to focus your ministry vision
How to identify your ideal donor(s)
The simple budget planner and support raising timeline for 2018 & beyond…
How to assemble a team of individuals, ministry and community leaders who believe in your mission and want to help you find new donors and raise support
And more…
If that sounds interesting to you, fill out the form below and grab your free copy…