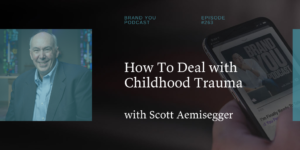 Scott Aemisegger is an expert on childhood trauma. He has both the knowledge and experience from dealing with it in his own kids' lives. I brought him onto the show to teach all of us about this extremely important topic.
Though business can feel like an extension of us when we have personal brands, it is really just a part of our lives. That is why I'm so passionate about holistically looking at my life and helping all of you do the same. Even if you don't have kids, you can take a lot out of this conversation just as an entrepreneur. Scott and I discuss:
His family background and how it's influenced his work
The steps he took to walk through his children's trauma
The mindset of a child with trauma when he or she is under top-down authority
How to help your child heal from trauma
What to look for in the key contact areas your child spends time in
How to regulate your child's environment before relating to and reasoning with them
The mindset shift Scott went through as a parent and business owner
My own experience with childhood trauma
Resources:
Connect with Mike:
Instagram – https://www.instagram.com/mikekimtv/
LinkedIn – https://www.linkedin.com/in/mikekimtv
Facebook – https://www.facebook.com/mikekimtv/
Twitter – https://twitter.com/mikekimtv
YouTube – https://www.youtube.com/MikeKim
Subscribe to the Brand You Podcast Here:
Did you know? The Brand You Podcast was recently listed as an "all-time bestseller" in Apple Podcasts for marketing. Subscribe free to get new episodes every Wednesday:
EPISODE CREDITS:
If you like this podcast and are thinking of creating your own, consider talking to my producer, Danny Ozment.
He helps thought leaders, influencers, executives, HR professionals, recruiters, lawyers, realtors, bloggers, coaches, and authors create, launch, and produce podcasts that grow their business and impact the world. Find out more at https://emeraldcitypro.com