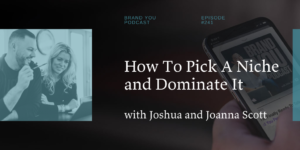 This week, I brought on Joshua and Joanna Scott from Studio 88 to talk more about niches. They have built an incredible marketing agency that is focused on the niche of serving dentists. I got to work on a project with them last year and it was cool to see the work that they do in this unique space. A lot of us struggle with niching down and they've done well in that, so I knew they would have a lot of great stuff to share with us. In the episode, we talk about:
Having a "real" business and how they built theirs around a personal brand
The process of "niching down"
The art of working together as a couple
How high-end companies are transitioning to the personal brand world
Post-COVID predictions for dentistry
Their prep process for working with clients
I hope that Joshua and Joanna's real-life story helps you realize what can happen if you niche down. Your business and niche may transition later on, but focusing on one can lead to greater success in your personal brand.
Resources:
Connect with Mike:
Instagram – https://www.instagram.com/mikekimtv/
LinkedIn – https://www.linkedin.com/in/mikekimtv
Facebook – https://www.facebook.com/mikekimtv/
Twitter – https://twitter.com/mikekimtv
YouTube – https://www.youtube.com/c/MikeKim
Subscribe to the Brand You Podcast Here:
Did you know? The Brand You Podcast was recently listed as an "all-time bestseller" in Apple Podcasts for marketing. Subscribe free to get new episodes every Wednesday:
EPISODE CREDITS:
If you like this podcast and are thinking of creating your own, consider talking to my producer, Danny Ozment.
He helps thought leaders, influencers, executives, HR professionals, recruiters, lawyers, realtors, bloggers, coaches, and authors create, launch, and produce podcasts that grow their business and impact the world. Find out more at https://emeraldcitypro.com