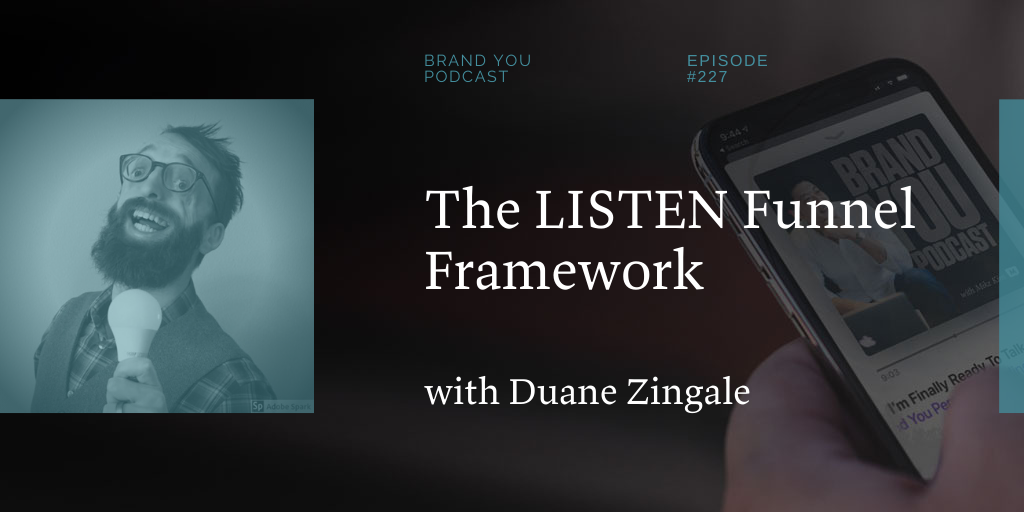 Duane Zingale is a digital ad specialist who spends most of his time crafting relationship-based marketing funnels. He helps consultants and coaches build out these systems, loving tech so we don't have to. Duane did this for me by helping me incorporate touchpoints within the automations I already had in place without losing that personal touch. In this episode, he takes us through the LISTEN funnel framework he's developed and seen play out again and again.
L: Locate the audience: Find out where your customers are hanging out, and go there. Start conversations, ask them questions, and invite them in.
I: Invite them to take action: Offer to solve a simple problem, and invite your audience to opt-in to receive that solution.
S: Survey them: Ask your customers where they are struggling the most, and how you can help with that. Their words can become your greatest copy!
T: Teach them: Pull your customers into your teaching. Demonstrate your methodology and show them why your solution is the way to solve their problems.
E: Empower them: Move from teaching them to empowering them for the purchase. When people feel empowered, they move towards transformation.
N: Nurture them: Nurture your tribe's and potential prospect's success. It can take a long time, so keep the movement gaining momentum until other people are championing your movement for you.
Resources:
Brand You Bootcamp video series
Connect with Mike:
Instagram – https://www.instagram.com/mikekimtv/
LinkedIn – https://www.linkedin.com/in/mikekimtv
Facebook – https://www.facebook.com/mikekimtv/
Twitter – https://twitter.com/mikekimtv
YouTube – https://www.youtube.com/c/MikeKim
Subscribe to the Brand You Podcast Here:
Did you know? The Brand You Podcast was recently listed as an "all-time bestseller" in Apple Podcasts for marketing. Subscribe free to get new episodes every Wednesday:
EPISODE CREDITS:
If you like this podcast and are thinking of creating your own, consider talking to my producer, Danny Ozment.
He helps thought leaders, influencers, executives, HR professionals, recruiters, lawyers, realtors, bloggers, coaches, and authors create, launch, and produce podcasts that grow their business and impact the world. Find out more at https://emeraldcitypro.com