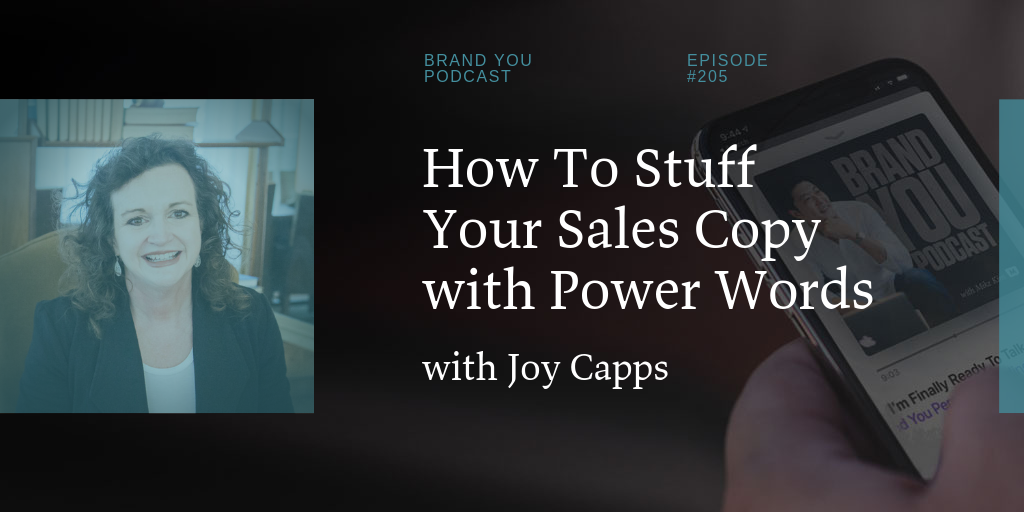 Joy Capps is one of the few copywriters I've hired both for my own work and for larger projects I've been contracted on. As such, she is one of the few copywriters I ever recommend to others. Most recently, I hired her to write funnels and launches for the John Maxwell Team. I was so impressed by her work!
Today, Joy shares a few tips on using "power words" to evoke emotion in your copy. To serve as a resource to you, Joy has put together an entire list together in a handy resource here:
Download Joy's Power Words list »
I can't recommend Joy's copywriting services highly enough. She is timely, thorough, pays close attention to details, will research the topic like a bloodhound, and write some really inspiring and persuasive copy for you.
Connect with Joy at her website here: joycapps.com
Connect with Mike:
Instagram – https://www.instagram.com/mikekimtv/
LinkedIn – https://www.linkedin.com/in/mikekimtv
Facebook – https://www.facebook.com/mikekimtv/
Twitter – https://twitter.com/mikekimtv
YouTube – https://www.youtube.com/c/MikeKim
Subscribe to the Brand You Podcast Here:
Did you know? The Brand You Podcast was recently listed as an "all-time bestseller" in Apple Podcasts for marketing. Subscribe free to get new episodes every Wednesday:
If you like this podcast and are thinking of creating your own, consider talking to my producer, Danny Ozment.
He helps thought leaders, influencers, executives, HR professionals, recruiters, lawyers, realtors, bloggers, coaches, and authors create, launch, and produce podcasts that grow their business and impact the world.
Find out more at https://emeraldcitypro.com