Entrepreneurs are some of the most optimistic people I know. They tend to see life through the lens of limitless possibility. They have a natural ability to pick up on the latest trends and embrace new discoveries. They see opportunity everywhere.
But like anything in life, too much of a good thing can be bad. 
Early on my entrepreneurship journey, I started to look more closely at the people who were really excelling in their businesses. I noticed two types of people: the doers and the strategic doers.
The doers were the people who, from the outside, appeared to be excelling. They seemed to attend every conference or networking event, embraced every new social media platform, and sporadically pumped out content for all audiences.
The strategic doers had a quieter approach. They would attend one or two conferences a year, use specific social platforms to spread their message, and produced consistent content to their niche audience.
While the doers seemed to being producing a whole lot more, it was the strategic doers who were actually building momentum (and profit) in their businesses.
So what gave the strategic doer a leg up on the mere doer?
Intentional action.
In other words, they begun with the end in mind … and determined a clear roadmap to reach their destination.

In today's hyper-connected digital age, opportunity surrounds us. We can connect and create with more ease than ever before. But what we fail to see is that options often lead to inaction.
While the doers seemed to be embracing every opportunity, their constant action drew them further away from the intentional time and focus required to move their business forward. Too many choices can lead to increased anxiety, indecision and wasted time.

So how can us doers learn to avoid shiny opportunity syndrome? I've outlined 3 strategies:
1) Embrace the 70/20/10 Rule
Focus the bulk of your efforts on what you know works. I suggest the 70/20/10 rule.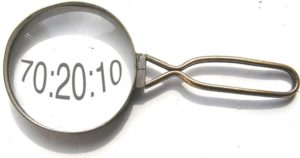 Spend 70% of your time and budget on opportunities with a proven outcome that will meet your business goals. For example, creating online products will serve your audience while producing revenue. It is a proven model, opportunity and approach. Everything changed for me when I focused on spending 70% of my time on income generating action.

Spend 20% of your time and budget on opportunities that are likely to give you the outcome you are seeking. For example, speaking opportunities may bring in new clients and establish relationships that will further your brand and business. I don't position myself as a speaker, but I have done a few "gigs" here and there. They've helped elevate my brand, but haven't directly impacted my bottom line.
Lastly, spend 10% of your time and budget on the "shiny" opportunities. The ones that light you up! For example, test out a brand new marketing strategy or product. Allow yourself the opportunity to explore, innovate and re-inspire within these boundaries.
2) Commit to a 90-Day Plan
Once you're clear on the opportunities you'll pursue based on the 70/20/10 rule, I suggest selecting 3 (perhaps 1 in each category) that you can commit to implementing in the next 90 days. 
When new opportunities arise, jot them down on a list to reassess when planning your next 90 day cycle. The reality is that most opportunities are rarely a once-a-in-a-lifetime occurrence.
Oh, and saying yes to one thing, will inevitably mean saying saying no to another.
3) Understand the opportunity costs
For every opportunity, there is a cost. The pursuit of one opportunity will pull time, energy and resources away from another.
The strategic doers knows exactly how to evaluate these sacrifices against potential gains. The key to avoiding shiny opportunity syndrome is learning how not to get wrapped up in all that glitters! Take time to evaluate each opportunity and its cost. Ask yourself:
Does this align with my goals for my business?

Is this a direct path to achieving my goals?

What positive outcomes can I foresee?

How likely are those outcomes?

What challenges can I foresee?

How likely are those challenges?

What will I have to sacrifice in order to achieve the positive outcomes?

Am I willing to make these sacrifices?



If you're curious about more tools and strategies to create the life and business you want, I highly suggest this free LifeScore™ Assessment, by my friend Michael Hyatt. It helps to measure your life in the areas that matter most—so that you can improve. Get access here. (It's free, but you'll have to provide your email address.)
Got some of your own ideas of how to avoid shiny object syndrome? Share them in the comments below or  join the conversation in my FREE Facebook community.