If you're a speaker looking to "pivot" the type of audience you serve, this episode is a must listen.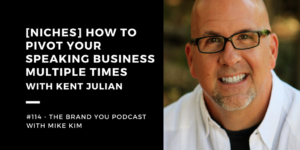 We continue our "Niches" series today with Kent Julian. Kent has one of the most interesting — and intentional — speaking businesses I've seen. He started out as a director of youth ministries (churches), went into the education space, then into youth leadership, and most recently into the association space.
How did he pivot so many times, so successfully?
He unpacks it all for us today. His tips on "reverse interviewing", building a list of event planners, using the revolving door strategy, and showcasing are pure gold.
Mentioned In Today's Episode:
Join the Brand You Community on Facebook:
Have you checked out this invite-only group? Click here to request access to the Brand You Community
Liked this episode? Leave a review on iTunes and I'd love to give you a shoutout on the show! Make sure to leave your website so I can link back to it.
I'd love to connect on social: