It's been said the "riches are in the niches" — and that's what we're going to be looking at for the next 3 episodes on the podcast.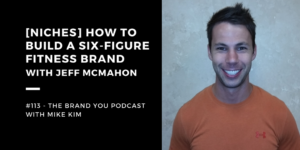 You're going to get real-world case studies of how several of my friends and colleagues have built significant six-figure personal brands by narrowing their niche.
In today's episode, I interview Jeff McMahon of Total Body Construction, a personal trainer who has taken his business to the next level by training entrepreneurs virtually in addition to what he does in person.
Jeff's business is fascinating because he has three different niches to the same fitness business, and all three have very different types of customers. It's a great lesson on how to extend your product line laterally — meaning offering the same services to different audiences.
We also talk about the realities of building a visually-based business (you've got to look good to build a fitness business, right?) and how Jeff leveraged one client, internet entrepreneur Pat Flynn, to land client after client afterwards.
You'll also find out why I personally think most of my fitness coach friends are being duped by big businesses like BeachBody. While I love BeachBody's products, the way they advise their trainers to build businesses is terrible!
Mentioned In Today's Episode:
Join the Brand You Community on Facebook:
Have you checked out this invite-only group? Click here to request access to the Brand You Community
Liked this episode? Leave a review on iTunes and I'd love to give you a shoutout on the show! Make sure to leave your website so I can link back to it.
I'd love to connect on social: