On the previous episode of the podcast, we talked about 3 money mindsets that would help you raise your rates and command the fees you deserve.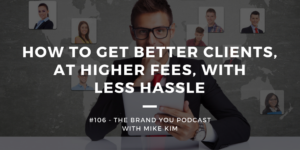 But what do you say in order to position yourself for better clients, higher fees, and less hassle? The answer is simple:
Results-driven copywriting.
In today's episode, I share several scripts you can use — whether you're a coach, consultant, copywriter, designer, or any other professional services provider.
You can also download a BRAND NEW COPYWRITING GUIDE called Get Coaching Clients Now: 5 Proven Templates That Bring You Better Clients, at Higher Fees, With Less Hassle.
Inside, you'll find scripts for 5 types of coaches:
Undecided coaches
Business coaches
Executive coaches
Career coaches
Relationship coaches
You'll also get swipe copy for Twitter posts, LinkedIn posts, and email pitches.
Join the Brand You Community on Facebook:
Have you checked out this invite-only group? Click here to request access to the Brand You Community
Liked this episode? Leave a review on iTunes and I'd love to give you a shoutout on the show! Make sure to leave your website so I can link back to it.
I'd love to connect on social: