Many people view email marketing as a "necessary evil" but it's actually one of my favorite things in all of marketing (I'm weird, I know).
Regardless of how you feel about email marketing, one cliche rings true: "the money is in the list." In this episode, I share two simple ways to improve your email open rates (hint: both have to do with the "headline" of your email).
A Quick Preview of the Podcast:
two ways to improve your email marketing in under five minutes
several samples of headlines I've used as a copywriter
the open rates of my email marketing (and how many people I have on my list)
Featured Resource:
Check out my brand new resource, 49 Email Subject Headlines: A Copywriter's "Cheat Sheet" To Marketing Emails That Get Opened. These are actual headlines I've written that have worked wonders for email marketing — both my own business and my clients.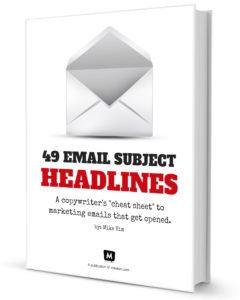 Get it free today.
Connect with Mike:
Instagram – https://www.instagram.com/mikekimtv/
LinkedIn – https://www.linkedin.com/in/mikekimtv
Facebook – https://www.facebook.com/mikekimtv/
Twitter – https://twitter.com/mikekimtv
YouTube – https://www.youtube.com/c/MikeKim
---
Would you review this show? I would consider it a great honor if you would leave a written review on iTunes. It's one of the best way for word to get out about this podcast. I read every single comment … leave any review you want, as long as it's honest. Thank you!