This is a guest post by copywriter and coach, Marshall Bone.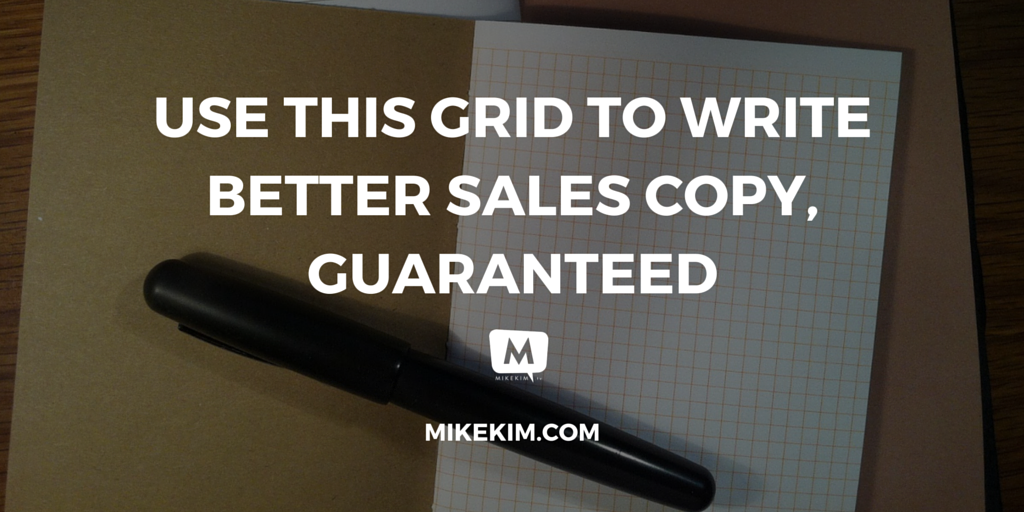 Writing your own copy is a little like cutting your own hair.
Can you do it? Absolutely. Should you do it? Well … are you willing to risk looking like you lost a fight with a lawnmower for a while?
Nothing is simple when you do it for the first time. But with a little guidance and practice, anything is possible.
This is true of most people when they first attempt writing their own copy. Any thoughts they had concerning copywriting being "easy" goes right out the window.
Let me be clear … crafting compelling copy that speaks to your ideal customer and compels them to take action is hard work. It's work best left to professionals, those who have already embraced the madness of trying to wrangle the written word.
But what if that's not an option for you?
Fear not intrepid entrepreneur, I have an answer for you. Doing this simple exercise will immediately set you apart from most of your peers, and allow you a greater opportunity to speak the language of your ideal customer.
It's as easy as answering four simple questions:
What do they have before they have your product or service? Write it down. Then ask yourself, "What do they have after they have your product or service?" Write that down too.
How do they feel before they have your product/service? How do they feel after they have it?
What does their average day look like before they have your solution? What does it look like after they have it?
What is your target market's status like before they have your product/service? What's it like after they possess your product/service?
To apply this, simply use a grid like the one below (I've filled in the boxes to show an example):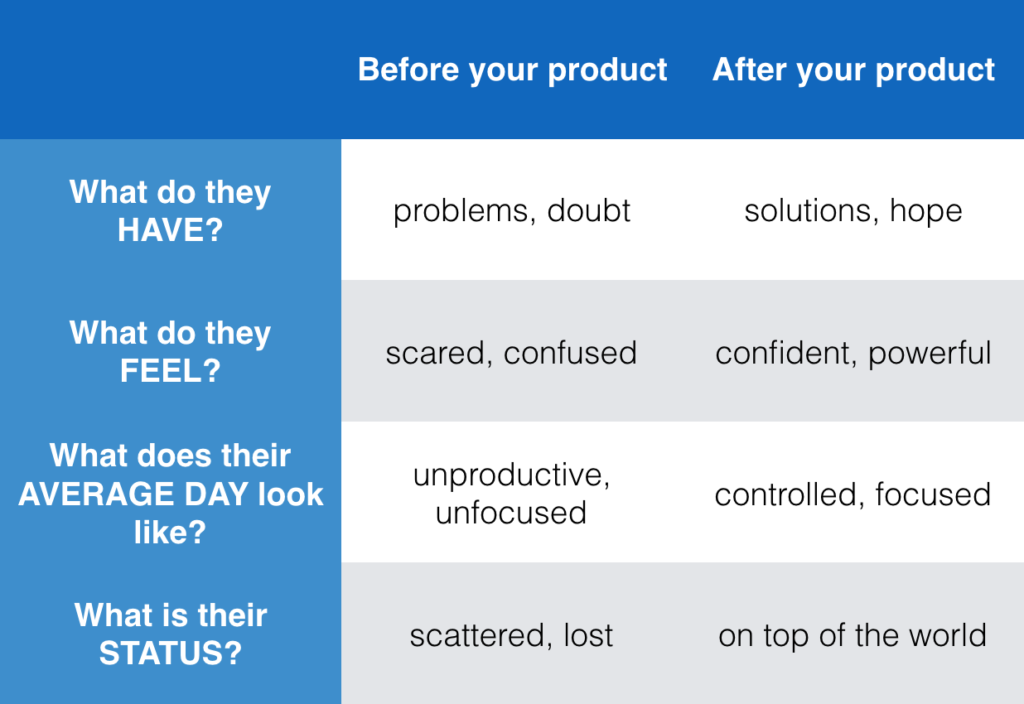 Whatever You Do, Don't Stop Where Most People Stop
Let me pause because you need to know this: most marketers stop after just question #1 in their copy. But not you! When you make the answers to questions two through four a part of your copy, you have a much better chance of standing out and making it easier for your tribe to find you.
You'll be tempted to underestimate the simplicity of these questions and ignore them. Don't.
As a professional copywriter and coach I assure you that the answers to these questions will provide a solid foundation for copy that sells stuff. A lot of stuff.
You believe that what you do offers your customers a chance at a better life somehow. The fastest path to that ideal outcome is paved with good copy.
Get Your Copy of the Copywriting Grid Today.
Click the button below to get a PDF copy of the grid that you can type into and use repeatedly to write better copy.
Marshall Bone is a seasoned copywriter who's done hundreds of B2B content projects. He has written for leading brands like AT&T, American Golf, and Ray Edwards International … plus many smaller companies with big ideas. His copy is known for snapping with energy, sparkling with clarity, and generating more leads, buzz, and sales. To work with Marshall (which I highly recommend, I've contracted him several times!) visit marshallbone.com today.