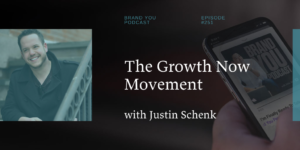 Justin Schenk is the host of the top-rated podcast, The Growth Now Movement. We met a few years ago at a conference in Orlando and have stayed in touch all this time. He is one of the easiest people to talk to and one of the best in the business. All of us have been challenged recently. We've had new opportunities to grow and had to pivot our businesses in different ways. Justin has experienced this too. I brought him on to talk about the changes he's made and how we can continue to pursue personal growth during uncertain times. In the episode, we discuss:
How COVID has changed Justin's business and life
The conversation we had about abundance that shifted his perspective
Building community for the long haul
How he started and grew his podcast
Setting big goals and intentions
What to do when it's hard to ask for help
His upcoming virtual event, the Growth Now Summit
Resources:
Connect with Mike:
Instagram – https://www.instagram.com/mikekimtv/
LinkedIn – https://www.linkedin.com/in/mikekimtv
Facebook – https://www.facebook.com/mikekimtv/
Twitter – https://twitter.com/mikekimtv
YouTube – https://www.youtube.com/MikeKim
Subscribe to the Brand You Podcast Here:
Did you know? The Brand You Podcast was recently listed as an "all-time bestseller" in Apple Podcasts for marketing. Subscribe free to get new episodes every Wednesday:
EPISODE CREDITS:
If you like this podcast and are thinking of creating your own, consider talking to my producer, Danny Ozment.
He helps thought leaders, influencers, executives, HR professionals, recruiters, lawyers, realtors, bloggers, coaches, and authors create, launch, and produce podcasts that grow their business and impact the world. Find out more at https://emeraldcitypro.com