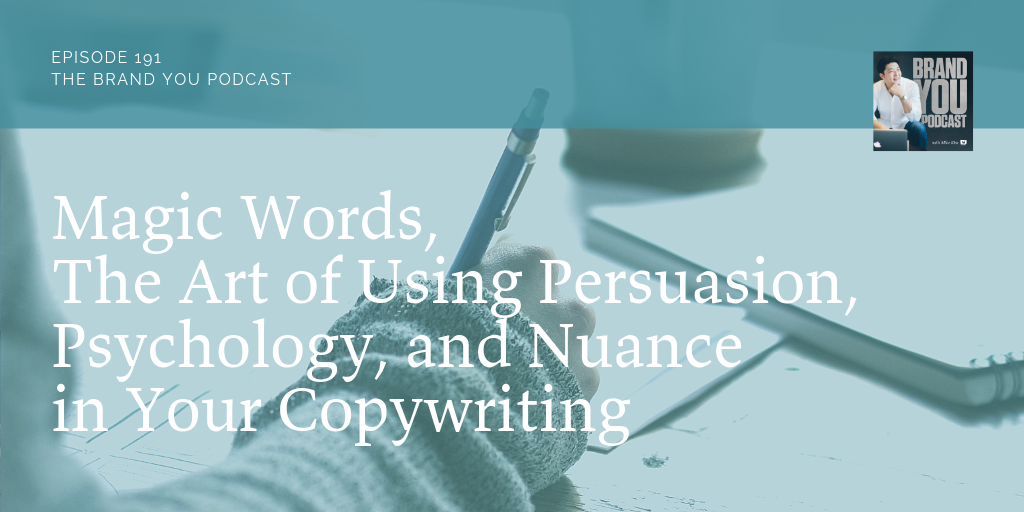 We're back on the show after taking the holiday week off and we're hitting the ground running with the first of several copywriting-based episodes.
Tune in and you'll hear a presentation I gave at a private, high-ticket workshop on some of the most recent copyhacks I've been using and teaching.
If you want to "look over my shoulder" as I write a launch in real-time (and get access to some of my favorite copywriting resources) then go to writegreatcopy.com and sign up.
Connect with Mike:
Instagram – https://www.instagram.com/mikekimtv/
LinkedIn – https://www.linkedin.com/in/mikekimtv
Facebook – https://www.facebook.com/mikekimtv/
Twitter – https://twitter.com/mikekimtv
YouTube – https://www.youtube.com/c/MikeKim
Subscribe to the Brand You Podcast Here:
Did you know? The Brand You Podcast was recently listed as an "all-time bestseller" in Apple Podcasts for marketing. Subscribe free to get new episodes every Wednesday:
***
EPISODE CREDITS:
If you like this podcast and are thinking of creating your own, consider talking to my producer, Danny Ozment.
He helps thought leaders, influencers, executives, HR professionals, recruiters, lawyers, realtors, bloggers, coaches, and authors create, launch, and produce podcasts that grow their business and impact the world. Find out more at https://emeraldcitypro.com