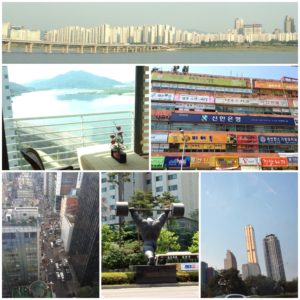 Been having a great time in Korea…been here to celebrate my brother-in-law's wedding. Some interesting things I've learned about Korea/Korean culture:
People hate getting tanned. There are plenty of "tan-prevention" wares including huge hats, visors, Nike Dri-Fit type sleeves, neck wraps, GLOVES etc. all in an effort to NOT get tanned. People wear all these clothes in this crazy heat! Apparently the aversion to being tanned is rooted in history. Historically, a tanned epidermis meant you were a field-laborer, aka towards the bottom end of the social ladder. People don't think along those lines nowadays, but that's where it's rooted in. Interesting, to say the least.
Playing golf in Korea is insanely expensive because of the lack of available land. In fact, if you own or live in a house (meaning anything but an apartment) and have any amount of yard space you're likely well off. So for some company or country to club to float financially with land being at such a premium, they have to charge crazy money. For you golfers, the following may be of interest:  1. carts in Korea seat 4 people instead of 2 (like in the U.S.) 2. CORRECTION – carts seat 5 people; 4 golfers and 1 caddy who is a petite Korean lady decked out in sun-prevention gear (quite impressive in this heat, really) that A) has a way better eye than you regarding where you hit your shot B) knows more about golf and your own game than you do C) reads distances, winds, and greens like we read books and D) has a load of candy (CANDY!) in the cart to give to you. I regret not taking a pic with my Korean golf-genius lady, but she at least took a pic for us.

I am huge. Like so big that every store I went to looking for either a pair of golf shoes (I left mine in the U.S.) or clothes was an effort in futility. The largest shoes they had in any store I went to was U.S. 9.5, and they still insisted it would probably fit (I wear a U.S. 12). I feel slightly discriminated against because of my size. Their large coffees here are tauntingly small.
Speaking of coffee, Koreans don't sell (at the cafes) regular coffee. It's all Americano (the stronger stuff). They also don't put milk in coffee, or make milk/cream readily available. I mean seriously…you can go to the coffee bar and get all sorts of cute packaged sugar, but there's no milk or cream. If you want milk, you have to order a latte. Otherwise, too bad. Torture = drinking my hot Americano with just sugar in the hot Korean sun with no tan-prevention gear.
So this has been a small part of my learning experience in Korea. It's been almost 7 years since I was here last (when we got married) and this time I've had more opportunities to see the country and experience life here. Love it, to say the least. Will update more later but heading out to the Philippines later today. If you want to see pics, you can check my Instagram (@mikekimtv) or my Twitter (@mikekimtv). More updates to follow–when I have time to post!