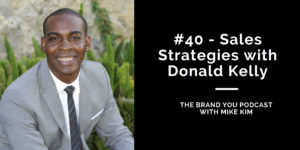 Sales. It's one of the most dreaded aspects for many people in building their personal brand. Luckily there are some great folks out there that are willing to share their sales strategies in an honest, ethical, and effective way. One such person is Donald Kelly, affectionately known as "The Sales Evangelist."
In this episode, Donald shares a few practical strategies that you can use right away in your personal brand business. For more on Donald, I strongly suggest checking out his podcast, The Sales Evangelist.
A Quick Preview of the Podcast:
Core sales strategies that Donald uses everyday
How to "stay cool" when selling
An opportunity to learn sales from Donald directly
Check out: The 4-Week Sales Acceleration Course. Register and get in queue for the next session, or the self-study version.
Would you mind leaving an honest review for the Brand You Podcast on iTunes? Ratings and reviews are extremely helpful and greatly appreciated! They do matter in the rankings of the show, and I read each and every one of them.
If you enjoyed this episode, please share it using the social media buttons you see at the bottom of the post.
Connect with Mike:
Instagram – https://www.instagram.com/mikekimtv/
LinkedIn – https://www.linkedin.com/in/mikekimtv
Facebook – https://www.facebook.com/mikekimtv/
Twitter – https://twitter.com/mikekimtv
YouTube – https://www.youtube.com/c/MikeKim
---
Would you review this show? I would consider it a great honor if you would leave a written review on iTunes. It's one of the best way for word to get out about this podcast. I read every single comment … leave any review you want, as long as it's honest. Thank you!