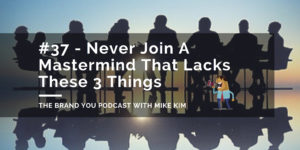 The right mastermind group can catapult your success like nothing else can. It's almost "unfair" how quickly you can grow your influence and income by being in the right mastermind. If you're not sure what a mastermind group is or how it works, this episode is for you.
Today's episode is in response to a question by Ashley Park, a graphic designer from AYP Creative. Check out her site … and thanks for the question, Ashley!
A Quick Preview of the Podcast:
3 things that every successful mastermind group possesses
How a mastermind group works
Why I prefer a paid mastermind over a free one
How to find your own mastermind group
If you'd like to work with me:
For a limited time, I am making myself available for personalized small-group coaching (for up to 10 people only) to help you market yourself, turn your past into profit, and make that career pivot successfully. If you are interested, go to mikekim.com/pivot. Applications are due July 3rd.
Today's Resources:
Special thanks to C.R. Mooney, Amy Robles, and Lynn Friesth for your reviews!
Would you mind leaving an honest review for the Brand You Podcast on iTunes? Ratings and reviews are extremely helpful and greatly appreciated! They do matter in the rankings of the show, and I read each and every one of them.
If you enjoyed this episode, please share it using the social media buttons you see at the bottom of the post.
Connect with Mike:
Instagram – https://www.instagram.com/mikekimtv/
LinkedIn – https://www.linkedin.com/in/mikekimtv
Facebook – https://www.facebook.com/mikekimtv/
Twitter – https://twitter.com/mikekimtv
YouTube – https://www.youtube.com/c/MikeKim
---
Would you review this show? I would consider it a great honor if you would leave a written review on iTunes. It's one of the best way for word to get out about this podcast. I read every single comment … leave any review you want, as long as it's honest. Thank you!