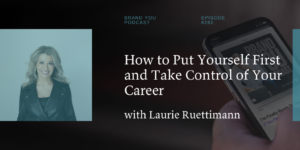 Laurie Ruettimann is a former Human Resources leader turned speaker, entrepreneur, and writer. She has been recognized by CNN as one of the top 5 career advisors in the US.
With all that has happened in the past year, the crazy burnout rates, and the many people now redefining boundaries, I knew I had to bring Laurie onto the show. Before leaving the corporate world, she experienced extreme burnout. She wasn't sleeping, moving her body, or respecting who she was as a person. When she committed to putting herself and her wellbeing first, a snowball effect was put into play. Laurie is a powerhouse, so you won't want to miss our conversation today. Tune in to hear:
How Laurie made the pivot from being an HR leader to speaking and sharing her ideas
Why we have to become the brand we want to sell
The benefits of starting small
How to begin taking business baby steps while still getting a paycheck
How to set boundaries today
Why healthy boundaries require you to put your personal life before your professional one
The impact and future of virtual communication
How to bet on yourself
Resources:
Connect with Mike:
Instagram – https://www.instagram.com/mikekimtv/
LinkedIn – https://www.linkedin.com/in/mikekimtv
Facebook – https://www.facebook.com/mikekimtv/
Twitter – https://twitter.com/mikekimtv
YouTube – https://www.youtube.com/MikeKim
Subscribe to the Brand You Podcast Here:
Did you know? The Brand You Podcast was recently listed as an "all-time bestseller" in Apple Podcasts for marketing. Subscribe free to get new episodes every Wednesday:
EPISODE CREDITS:
If you like this podcast and are thinking of creating your own, consider talking to my producer, Danny Ozment.
He helps thought leaders, influencers, executives, HR professionals, recruiters, lawyers, realtors, bloggers, coaches, and authors create, launch, and produce podcasts that grow their business and impact the world. Find out more at https://emeraldcitypro.com