Insider Collection: Volume 1 – $997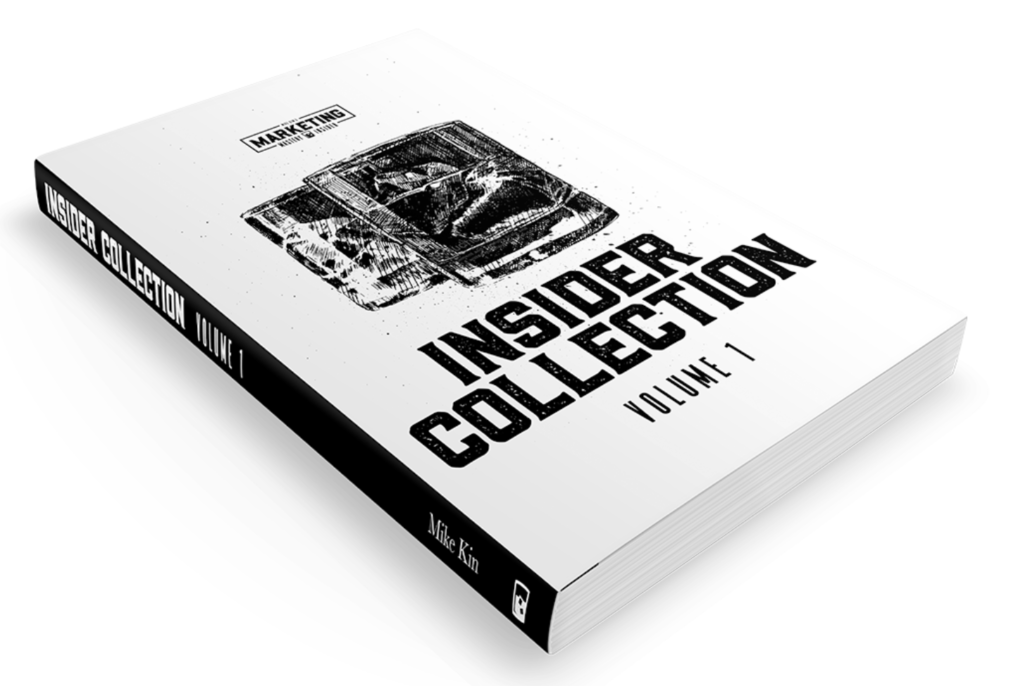 This 160+ page full-color book contains issues 1-11 of Marketing Mastery Insider. You will also get exclusive access to my bonus $14,000 Affiliate Email Swipe File, and my entire "Collaborative Cart Close" email sequence from a recent launch.
Here are just a few topics from these issues:
The Only Two Emails You Need to Start an Email List From Scratch
How To Increase Your Email Open Rate by 8% to 10% Every Time
Insider Secret: De-Nesting Emails (Do Not Skip This)
The Exact Call Script I Use to Close Clients
The "Magic Words" Webinar Script
Two Subtle Secrets of Opt-In Copy
How To Write an Irresistible First Sentence
What Secrets Stu McLaren Told Me About Membership Sites
The Easy Evergreen Funnel That Makes A Ton of Money on AutoPilot
Facebook Ads: The Fortune Is In the Follow Up
Swipe Copy for Your Facebook Ads: 
 Pitch Copy & Story-Based Copy
The Secret to My Fast Success in Marketing:
 "The Copywriting Workout"
Social Media Call-To-Action Copy
How I Scrambled to Pay Off A $35,000 Bill on Easter Weekend
A Short (But Possibly Very Helpful) 
 Insight Into Conversion Rates
How To Get Free Lead Magnets (Without Giving Up Your Email Address)
How To See What Google Is Indexing From Your Website
The Ultimate Guest Bio Swipe File
"I": The Most Dangerous Word in Advertising
The Most Under-Utilized Page in Digital Marketing
The Pillars of A Solid "Thank You OTO" Page
My Entire Product Launch Email Swipe File
Cart Close Day, Also Known As "$$$ Day"
My Complete Launch Calendar
Cart Close Emails: An Overview
The Anatomy of A Solid Sales Page
MK's Sales Page Commandments
…and so much more
Copies will be shipped to your address within 5 business days.
[button: Purchase Now »]
Marketing Mastery Workshop: Advanced Level
April 13-14, 2019 • Palm Beach Gardens, FL
Just minutes from the headquarters of the PGA (golf, anyone?) I will host you for an all-new, advanced marketing workshop. This workshop will assume that every attendee is well-versed in the content inside Marketing Mastery Insider Volume 1.
Only 40 seats are available, and we have only 13 seats left.
You will learn advanced tactics and strategies that I employ with my biggest clients whose email lists range from 100,000 all the way to 1,000,000 — things like Google Analytics tracking, Facebook organic and paid tracking, re-targeting, skyscraper techniques, SEO tactics, and ad-testing.
You shouldn't wait until your list or traffic balloon to that size to employ these measures now. You'll learn how to apply this to your business no matter the size so that you can employ data to drive marketing and product development decisions.
If you're a marketer, these are tactics you can use with your clients to leverage higher fees and gain greater results.
---